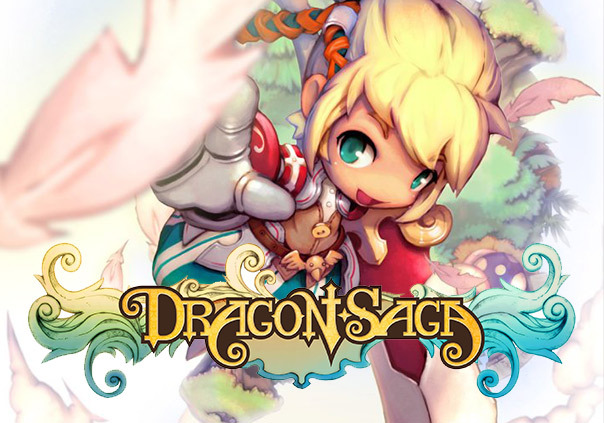 Dragon Saga is a unique, 3D side-scrolling MMORPG that closely resembles arcade classics like Gauntlet Legends, as well as PC Action MMORPGs like GhostX or Dungeon Fighter Online. The game used to be called Dragonica Online and was published by THQ, but since Gravity Interactive took over the service – they renamed the game to Dragon Saga. In some parts of the world the game is still called Dragonica Online. Those that are tired of traditional side scrolling games like MapleStory and Wind Slayer should find that Dragon Saga is genuinely different gaming experience; and a fun one at that. The game's four starting classes are:
Warrior – Warriors are the traditional 'tank' class in Dragon Saga. They have a large pool of hit points and are effective in melee combat but have little ranged damage.
Thief – Thieves, like in most games, are proficient at dealing damage and rely on their agility to attack rapidly in combat. Even though they can deal large amounts of damage they are vulnerable in melee combat as they have don't have nearly as many hit points as a warrior.
Magician – The Magician in Dragon Saga is the basic spell caster of the game. They have both supportive and offensive spells and can better specialize after their first job advancement. They are extremely weak in melee range as they have the least hit points in the game.
Archer – The archer class in Dragon Saga is proficient with both bow weapons and can deal a fair amount of damage from a distance but is vulnerable in melee range. They have more hit points than a Magician but less than a Warrior.
Each class has multiple job advancements. In addition, the game features pets that offer special boosts and perks, a private home for each character, and special crafting features to further enhance your character.

Status: Released
Release Date: Oct 15, 2009
Business Model: Free to Play
Developer: Gravity
Publisher: Gravity Interactive
Category:

Stand-alone

Genre(s):

3D, MMO, RPG

Platforms:

PC


Editor's Score: 4/5

Pros:

+Innovative 3D side-scrolling gameplay.
+Multiple Job advancements.
+Great instanced dungeon system.

Cons:

-Button mashing combat can get repetitive.
-Combat may feel too easy at times.
-May take a while to master control scheme.



Recommended System Requirements:

CPU: Intel Pentium E2140/E2200 or better
RAM: 2GB or higher
GPU: ATI Radeon HD 3650 or better or GeForce 8800GT or better



Description: Unlike other traditional side-scrollers Dragon Saga is actually 3D, meaning players have a bit more freedom in moving their character. With numerous quests, an excellent dungeon system, and fun, fast-paced gameplay, Dragon Saga offers a unique gaming experience well worth exploring.
KingsIsle Entertainment has announced that beta has begun for Pirate101.
by MissyS
Dropzone basically removes Macro from the equation, and while there are still a bit of resource collection involved, games come down to Micro.
by Proxzor
The war is now officially in full swing in Soldier Front 2 from Aeria Games, a leading global publisher of free-to-play online games.
by MissyS