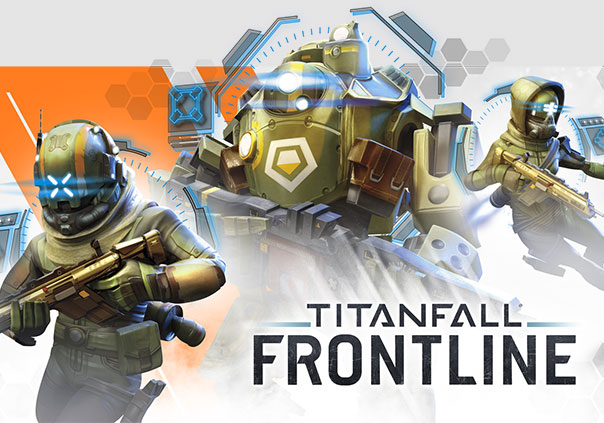 Titanfall Frontline is a free-to-play 2D collectible card game being developed by Particle City for iOS and Android. Titanfall Frontline is the first mobile take on the Titanfall series and will allow players to assume the role of brigade commanders, facing off against other online players in head-to-head battles.
Throughout the game players can collect hundreds of different Titans, Pilots, and burn cards like Parkour and Rodeo that can be used to assemble your perfect team to hold the Frontline and lay waste to your opponents. Pilots and Titans can even be combined with each other to open up even more possible team combinations and push your team's damage to new heights. When not combined, Titans can be placed into auto-mode and help provide cover for your Pilots as they attack their own targets. One of the most exciting parts about Titanfall Frontline's battles is not even the exciting combinations that players can create, but the fact that it happens in real-time as opposed to the classic turn-based system that a lot of mobile card games use today.
The main social aspect of Titanfall Frontline is its Guild system. Guilds can be formed between players so they can create strategic alliances, share tips, and help each other rank up their Pilots and Titans. When players don't want to face off against one another they can take on missions where they will be able to assemble their own specialized team to strategize in the way that suits them best.
If you're a true fan of Titanfall, then Titanfall Frontline is the next step to experiencing even more of that glorious mech-infested universe you've come to love. You'll even get to explore an expanded version of the Titanfall universe throughout its singleplayer campaign, giving you an ample amount of content to satisfy your Titanfall cravings!
Status: Pre-Release
Business Model: Free to Play
Developer: Particle City
Publisher: Nexon
Category:

Mobile

Genre(s):

2D, Strategy

Platforms:

iOS, Android



Recommended System Requirements:

OS: Android 4.4W or later
HDD: 38 MB



Description: Titanfall Frontline is a free-to-play collectible card game where players can act as a brigade commander and lead their own army of Pilots and Titans. Reclaiming the Frontline only happens one battle at a time, and thankfully you have the best resources to work with.
Kill3rCombo has announced a variety of new events to celebrate both Valentine's Day and the Lunar New Year.
by MissyS
Perfect World has announced details about the upcoming expansion to Forsaken World: Nightfall.
by MissyS
Mad Otter Games announced that the servers for MMORPG Villagers and Heroes are back online again.
by Ragachak