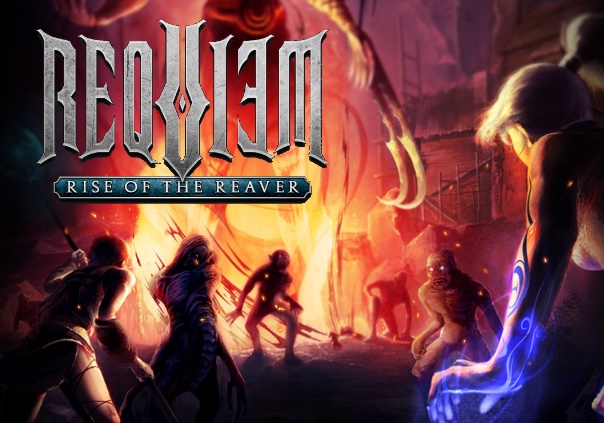 Requiem is marketed as a 'horror' themed game and has quite a bit of in game violence. In fact, the game is rated as 'mature' by ESRB due to its dark theme and gore. The game has four playable races and upon reaching level 10 you can actually pick your class. Each race can pick from two different classes.
Playable Races and Classes:
Turan –
At level 1 chose Templar or Defender
At level 50 Defenders chose Commander or Protector and Templars chose Tempest or Radiant
Bartuk –
At level 1 chose Warrior or Shaman
At level 50 Warriors chose Berserker or Warlord and Shamans chose
Forsaker or Mystic
Kruxena –
At level 1 chose Rogue or Soul Hunter
At Level 50 Rogues chose Shadow Runner or Assassin and Soul Hunters chose Defiler or Dominator

Xenoa –
At Level 1 chose Hunter or Battle Magician
At level 50 Hunters chose Ranger or Avenger and Battle Magicians chose Druid or Elementalist
Features
►Massive scale PvP battles, in various modes.
►Customizable weapons allow you to fine tune to fit your play style.
►Special group focused zones that require cooperation from a team of players to accomplish.
Microtransactions
Yes – Purchase DNA upgrades, mounts, and other specialty items.

Status: Released
Release Date: Jun 18, 2008
Business Model: Free to Play
Developer: Gravity
Publisher: Gravity Interactive
Category:

Stand-alone

Genre(s):

3D, MMO, RPG, Fantasy, Sci-Fi

Platforms:

PC


Editor's Score: 3/5

Pros:

+Unique 'horror' theme.
+Massive 96 vs 96 PvP battles.
+Challenging Nightmare system.

Cons:

-Repetitive gameplay.
-Zero plot development.
-Annoying pin code system.



Recommended System Requirements:

OS: Windows XP, Vista, 7
CPU: Pentium 4 2.0 GHz, AMD Athlon XP 2000+, or better
RAM: 1GB
GPU: Nvidia Geforce 6600, AMD Radeon 9500
HDD: 3.5 GB



Description: Requiem is a darkly themed 3D Fantasy Horror' MMORPG. It is one of the only self proclaimed horror games in the entire MMORPG genre. If you're a fan of games with a lot of gore, then Requiem just may be your cup of tea.
The latest update to the DOFUS universe titled LEGENDS OF THE FALL is now available. This update includes a new quest and a new dungeon. Some ...
by Mikedot
GameSamba and FUNimation Entertainment have announced today that they are beginning production on a video game based on Tokyo Ghoul.
by MissyS