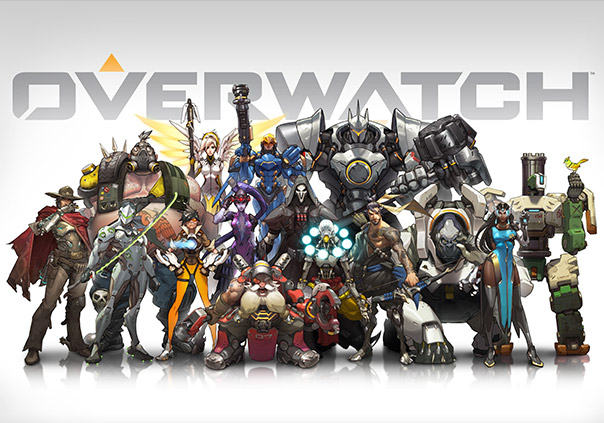 Overwatch is a team-based multiplayer shooter from Blizzard Entertainment, representing the first fresh IP from the developer in years. Set in an advanced future earth, an international task force known as the Overwatch has left a legacy in a world that still needs heroes. Though the Overwatch has fallen from favor, remnants of the force, both good and evil, continue to battle for power, riches, or just what's right. Gameplay consists of objective based frantic team battles with a slew of characters featuring skills sets more akin to MOBA characters than you might be accustomed to in an online team shooter.
Overwatch characters are bright and full of personality, coming from one of four aptly-named class types: Offense, Defense, Tank, and Support. With 26 characters and counting Overwatch is pushing the expectations of the shooter genre even further with flair and well-balanced character kits filling distinctly MOBA style roles. Whether you're looking for a character that can dive headlong into the fray, one that can easily maneuver around the battlefield, one to fight from far away with or something else entirely there is a character for you!
Gameplay in Overwatch requires you to master a slew of maps that practically take you on a world tour through all of it's game modes. Figure out what characters are good in what locations so you can play them to their fullest potential and wreak havoc. Don't expect your opponent to just walk around the corner and take a plasma blast in the face either! With multi-elevation maps and plenty of movement boosting skills, foes might get the drop on you from any viable direction. Stay on guard!
Game Modes in Overwatch will have you covered whether you want a bloody down and dirty brawl, or a tactical team focused battle. Each Game Mode features a 6-on-6 battle with a particular objective:
Escort – In Escort one team will be attacking while the other is defending. The attacking team is trying to force a payload across the map to a delivery point, while the defending team is trying to stop them.
Assault – Also featuring attacking and defending teams, Assault has two teams battling over capture points across the map. Attackers try to capture the objectives while defenders try to maintain control over them before time runs out.
Hybrid – Hybrid games start with Assault and end with Escort where both parts are played exactly like their stand-alone versions.
Control – In Control two teams fight over a series of objectives in a best-of-three format. Get your team's capture progress to 100% first to take the objective and win the round.

Status: Released
Release Date: May 24, 2016
Business Model: Retail
Developer: Blizzard Entertainment
Publisher: Blizzard Entertainment
Category: Stand-alone
Genre(s): 3D, Shooter
Platforms: PC, Mac, Xbox One, PS4

Editor's Score: 4/5

Pros:

+Very strong and stylized visuals.
+Reasonably fast matchmaking.
+Great variety of characters.

Cons:

-Lots of time spent running back to the battlefield.
-Content feels overpriced.



Minimum System Requirements (30fps):

OS: Windows Vista/7/ 8/10 64-bit
CPU: Intel Core i3 or AMD Phenom X3 865
RAM: 4GB
GPU: Nvidia GeForce GTX 460, ATI Radeon HD 4850, or Intel HD Graphics 4400
HDD: 5GB


Recommended System Requirements (60fps - Medium):

OS: Windows Vista/7/ 8/10 64-bit
CPU: Intel Core i5 or AMD Phenom II X3, 2.8 GHz
RAM: 6GB
GPU: Nvidia GeForce GTX 660 or ATI Radeon HD 7950
HDD: 5GB