Overview
Heroes in the Sky Overview
Looking for an exciting shooter, but tired of the usual tactical fare? Well Heroes of the Skies is a fast paced aerial third-person-shooter where players fight for either the Axis or the Allies in the skies over Europe. The core gameplay is obviously the multiplayer PvP battles, but Heroes in the Sky also supports several mission based PvE modes. There's even a crafting system in place to help players customize their warplanes! The game has over 70 unique airplanes, plenty of missions and more! It's also one of the only dog fighting MMOs out there, so if you're looking for one, Heroes in the Sky is well worth checking out.
Heroes in the Sky Screenshots
Heroes in the Sky Featured Video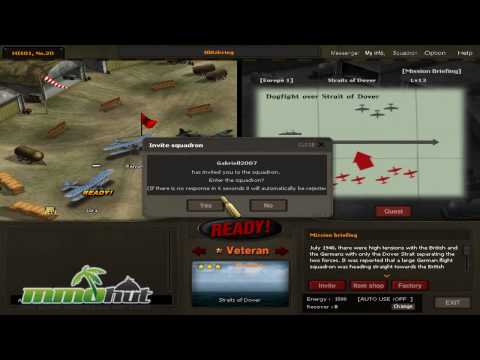 Full Review
Heroes in the Sky Review
Heroes in the Sky, also called HiS for short, is a 3D dog fighting MMO set during World War 2 with RPG elements. The game is by GamesCampus and it launched its open beta on July 1, 2010. The only other MMO dog fighting game is the sci-fi Ace Online, which plays a lot like Heroes in the Sky in terms of gameplay. The only major difference between the two games is that Heroes in the Sky is lobby based while Ace Online has a persistent world. Those looking for a fast paced dog fighting MMO should definitely give Heroes in the Sky a chance, as it's one of the only games of its kind.
Axis and Allies
Immediately after logging in and creating a character for the first time in Heroes in the Sky, players are given the choice of completing a short tutorial. It can be skipped, but it only takes a few minutes and rewards players with some starting gems (the game's currency), so it's actually worth completing. After the short tutorial, players must choose whether they want to enlist with the Axis or Allies. The axis are represented by Germany, Japan and Italy while the Allies included the United States, Britain and the Soviet Union. Each nation on each side (6 total nations) has their own set of airplanes for an impressive total of 70+ playable planes, each with their own unique advantages and disadvantages. After enlisting with a faction, players should begin by first grabbing all available "quests" in the game's "bar" and "Operational base, both of which are accessible in the game's "base area". After grabbing a few quests players can jump right into the actual gameplay by selecting a mission to complete or entering the PvP lobby.
Lobby Based Gameplay
Like many other MMOs, Heroes in the Sky has lobbies. Players can actually enter their planes and start shooting down enemies after they first join a game. There are three types of games in Heroes in the Sky. The first are Missions, which players can complete with up to 4 team mates cooperatively. The game has a bunch of missions which are based off of historical events during World War 2. Players can only complete these cooperative missions with members of their own factions. Allies have their own lobby for these missions and Axis have their own as well. These cooperative missions usually have players face off against waves and waves of enemy AI controlled aircraft. Players can complete these missions by completing a series of objectives. It's best to play conservatively in these missions, as there is no "respawning". Upon death (which can happen quickly!), players must sit out until their team either wins or loses. Most quests can be completed in these single player missions. I was actually surprised by the amount of variety in Heroes in the Sky, as the game has quite a bit of missions, and they're both challenging and interesting.
The second type of game mode is called "Attack and Defend" where Axis and Allied forces engage across numerous real world battles. In this mode players from both factions fight it out across numerous stages. Two of which are Pearl Harbor and Battle of Bardia. The last game mode is called "Occupational War" which takes place for a few hours each day and has forces from Allies and Axis fighting it out for total control of Europe. The goal for each side is to occupy as many areas as possible. When a city is contested, players from both sides can join the battle and fight. These occupational battles can support upwards of 40 people in a single battle at once, making them much more intense than regular matches.
Silk Smooth Gameplay
I really wasn't expecting too much when I first downloaded Heroes in the Sky, but after I jumped into my first battle, I was pleasantly surprised. The gameplay was quite fluid and the controls were responsive. The first thing I did after creating my character and choosing a side was entering a cooperative PvE mission, and I strongly recommend other new players to do that. Low level players have shouldn't even bother entering the PvP area or the occupational war, until they've leveled up a few times and unlocked a few new ships, as new players will find themselves wrecked in the competitive Occupational War and PvP areas by higher level players. The dog fighting in Heroes in the Sky is top notch and skill based, as it takes quite a bit of skill to get behind enemies while dodging incoming fire. I did find missiles in the game to be a bit over powered compared to the machine gun, but missiles are much harder to aim, so it only makes sense that they're powerful. Players can enter more advanced missions after they clear all of the "act 1" missions, which can take quite a bit of time. One small complaint I have about Heroes in the Sky is the game has absolutely no graphic options. The game runs at a fixed resolution of 800×600 and cannot be changed.
Lots of Variety
Where Heroes in the Sky shines the brightest is its variety. The game has well over 70 different airplanes, four different skill trees, and plenty of weapons making it a surprisingly in depth MMO. Players can produce (unlock) new ships in the game's factory by using their tech points. Since players gain only 2 tech points per level, players should spend their tech points on a single nation's airplanes, as in order to unlock more advanced planes, players need to first unlock the more basic ones within that nation's arsenal. Spending tech points on planes amongst multiple nations is a quick way to "gimp" your character. Skill points are gained each level can can be spent on "Common, Fighter, Bomber, and Gunner" skill trees. Between the total number of airplanes, skills and items in the game, Heroes in the Sky has some of the best customization and variety amongst any MMO.
Final Verdict – Good
Heroes in the Sky is a refreshing new game with plenty of variety. The game manages to offer a unique experience in the MMO genre when everyone else seems to be copying each other. The game's English translations could be better, but with over 70+ airplanes and numerous missions Heroes in the Sky is worth checking out.
Screenshots
Heroes in the Sky Screenshots
Links
Heroes in the Sky Links
System Requirements
Heroes in the Sky System Requirements
Minimum Requirements:
OS: Windows  XP / Vista / 7
CPU: Intel Pentium 4 2.4 GHz / AMD 2500+
RAM:  512 MB
HDD: 700 MB Free
Graphics Card: Geforce FX 5600 / ATI Radeon 9600
Recommended Specification:
OS: Windows Vista / 7
CPU: Intel Pentium 4 3.0 GHz / AMD 3200+ or better
RAM: 1 MB or more
HDD: 700 MB Free
Graphics Card: Geforce 6600 GT / ATI Radeon X700 or better
Heroes in the Sky Articles
Heroes In the Sky: Now Available -

Posted on February 4, 2015


Today, JC Planet has announced that Heroes in the sky has been started official service. They strongly recommend HIS anyone who ever dreamed to be a pilot; HIS will be a chance to your dreams come true.
Play 'Heroes in the Sky' on JC Planet account from Feb. 5th -

Posted on January 22, 2015


JC planet has announced that they will start H.I.S (Heroes in the sky) service from Feb. 5th. With this, JC Planet will be able to add more games into their games line up continuously.
Heroes In The Sky Declares an Intercontinental Occupational War -

Posted on January 18, 2013


GamesCampus today launched its 2nd annual US vs. EU Occupational War event designed for players across the globe to fight for their nation and become the ultimate hero in the sky!