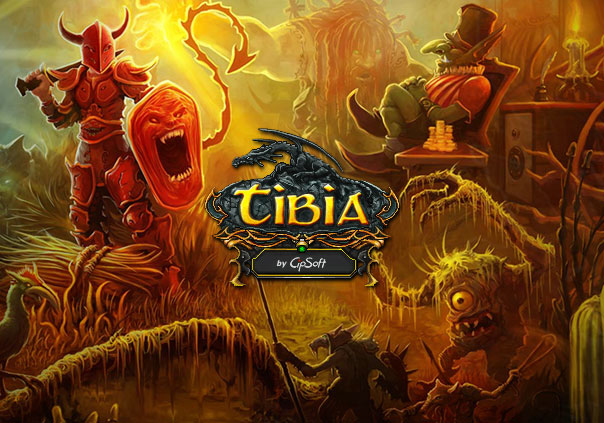 Tibia is over 10 years old and is still going strong with hundreds of thousands of active players. Its an easy game to get into, the game downloads in a few second and the system requirements are nearly non existent. Even Linux users can play! The interface is nice and clean, things like character stats, inventory and text boxes don't clutter up the screen but are shown on the sides. Those looking for an old school RPG adventure shouldn't overlook Tibia, but the game does have a major draw back. Many features and all the advanced vocations are only available to paying players. Free players can still enjoy the game at their own pace and chose from 4 vocations once reaching level 8. The four vocations are:
Knight – Melee specialists who prefer the sword or axe to magic. Knights make an obvious choice for beginners.
Paladin – Masters of ranged combat. Paladins prefer attacking their enemies from a distance.
Sorcerer – Steeped in the arts of black magic, Sorcerers are the offensive spell casters of Tibia.
Druid – Druids are schooled in the arts of white magic. They play a supportive role with healing and buffing spells.
Players must head to the Isle of Destiny upon reaching level 8 to chose a vocation. Premium members who reach level 20 can become advanced versions of their chosen vocation, awarding them additional benefits.

Status: Released
Release Date: Jan 07, 1997
Business Model: Free to Play
Developer: CipSoft
Publisher: CipSoft
Category:

Stand-alone, Browser

Genre(s):

2D, MMO, RPG, Fantasy

Platforms:

PC


Editor's Score: 2/5

Pros:

+Over 10 years of content updates.
+PvP and non PvP servers.
+Simple gameplay and controls.
+Low system requirements.
+Organized interface.

Cons:

-Dated graphics.
-Many features are only available to paying members.
-Many non-English speaking players.
-No attack animations.



Recommended System Requirements:

OS: Windows 95/98/ME/XP/2000/Vista
CPU: 1.7 GHZ Pentium 4
RAM: 256 MB or higher
GPU: Sure, why not?
HDD: 50 MB



Description: Tibia is a 2D free-to-play hardcore-fantasy-MMORPG with high interactive game world and retro-look. It is one of the oldest and most successful online role playing game.
Prismata, the energetic debut from Lunarch Studios, boils strategy down to its purist form then presses 'fast-forward'. Players comp...
by Mikedot
Wild Buster takes pieces of different gameplay from many genres and mashes them all together into a hack and slash action RPG.
by Proxzor
The Repopulation development team has recently updated their sandbox MMORPG with a brand new update, which includes changes to combat, skill g...
by Mikedot