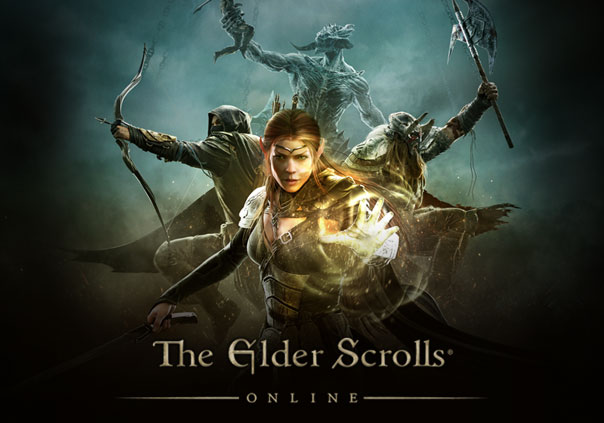 The Elder Scrolls Online is a buy-to-play fantasy MMORPG from Zenimax Online Studios and Bethesda Softworks based on the popular Elder Scrolls series. The game takes place during the Age of Heroes, 1,000 years before the events of The Elder Scrolls V: Skyrim, and features classic regions of the Tamriel game world, including Morrowind, Daggerfall, and Skyrim.
In the game players can become one of ten classic races from the Elder Scrolls series including Nords, Redguards, Bretons, Imperials, Dunmer, Altmer, Bosmer, Orsimer, Khajiiti, and Argonians. You can then choose one of five classes with different attacks, spells, and passive skills as well as the additional choice to become either a werewolf or vampire, each of which have their own skill trees. The game's open-ended skill system allows for further customization that hearkens back to other Elder Scrolls games and allows for fun combinations between classes and weapons.
The player's race determines what end of the faction war for the Imperial Throne they will be on: the Daggerfall Covenant, Ebonheart Pact, or Aldmeri Dominion. However, players that choose to be an Imperial are considered rogue to the Empire and are unbound to a faction, leaving them to choose which faction they want to join that could potentially replace the Empire.
The Elder Scrolls Online offers solo and group questing, public dungeons, guilds, and massive PvP warfare that sets the game's three player factions against one another for control over the region of Cyrodiil and the throne of Tamriel. Large-scale PvP conflicts concern more than just simple skirmishes with players of the opposing factions. Players must also collect resources, assist citizens, and capture objectives to truly help their faction take over.
With the fate of the world in the balance and the potential to acquire supreme power in Tamriel there isn't a moment to lose. Decide your destiny in The Elder Scrolls Online!

Status: Released
Release Date: Apr 04, 2014
Business Model: Retail
Developer: Bethsoft
Publisher: Zenimax Online
Category:

Stand-alone

Genre(s):

3D, MMO, Adventure, RPG, Fantasy

Platforms:

PC, Mac, Xbox One, PS4


Editor's Score: 4/5

Pros:

+Elder Scrolls setting and lore.
+Action combat system.
+Subscription no longer required.

Cons:

-Class system needs work.
-Console versions not synced with PC.



Recommended PC System Requirements:

OS: Windows 7 64-bit, Windows 8 64-bit
CPU: Quad Core 2.3GHz or equivalent processor
RAM: 4 GB
GPU: Direct X 11 compliant video card with 2GB of RAM (NVIDIA® GeForce® 560 Ti / ATI Radeon™ 6950 or better)
HDD: 60 GB


Recommended Mac System Requirements:

OS: Mac® OS X 10.7.0 or later
CPU: Intel® i5
RAM: 4 GB
GPU: NVIDIA® GeForce® GT 650M or ATI™ Radeon™ HD 5770 or better
HDD: 60 GB



Description: The Elder Scrolls Online is a fantasy MMORPG from Zenimax Online Studios and Bethesda Softworks based on the popular Elder Scrolls series. The game takes place during the Age of Heroes, 1,000 years before the events of The Elder Scrolls V: Skyrim
Spirit Tales is preparing to launch its closed beta phase, and as part of the prep, they have released their first Community Q&A with Elli...
by MissyS
Webzen today released a new content update for its Asian fantasy MMORPG ASTA – The War of Tears and Winds.
by MissyS
Sony Online Entertainment's (SOE) annual fan convention and news-fest SOE Live will kick off with title keynotes taking place all day Fri...
by Mikedot