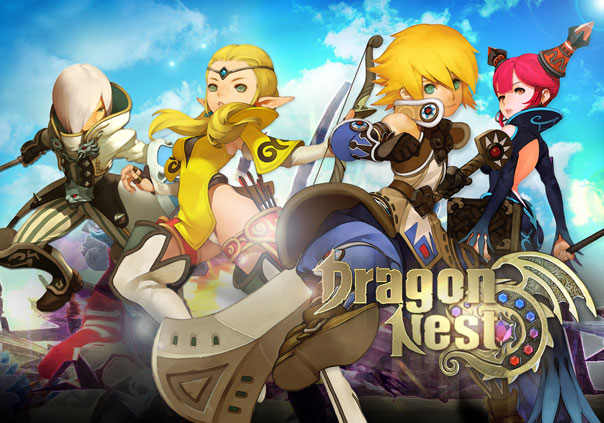 Dragon Nest is a fantasy MMORPG with an emphasis on skill-based fighting and combos. Originally released in 2010 to the Korean market, Nexon brings Dragon Nest to the North American market just a year later with a fresh set of voice actors and a whole lot of hype. Dragon Nest lets you play one of four classes, each with their set of two sub-classes, as you quest your way through colorful anime-inspired environments. It will undoubtedly appeal to those who tire of the World of Warcraft UI model, along with those who enjoy a more fast paced, less repetitive fighting system. Players will enjoy how differently each class plays from one another, along with the crazy powerful effects as enemies get lit on fire, fried by electricity or just blown away by the characters' many abilities. You may play as:
The Warrior: Classic close-combat tank & spank class, the warrior starts out as an even balance of offensive and defensive skills.
The Swordsman: Swordsmen are warriors whom, once specialized, embrace the damage-dealing aspect of their class, which can be again specialized to one, or many opponents through their choice of skills.
The Mercenary: Mercenaries are nothing short than traditional, full-blown tanks. Though they lose out on Swordsman damage, they can take a beating and easily ask for second servings.
The Archer: Straightforward long-ranged damage dealer, the archer is fast, hard-hitting, and fragile. Archers will need to use their mobility to ensure they can live to keep dishing out the pain.
The Sharpshooter: Specialized in long-ranged combat, the Sharpshooter is the archer with a full focus on long-range damage, but with even more vulnerability. This class hits like a truck.
The Acrobat: Losing a lot of the long range damage dealing, the Acrobat is an agility and mobility powerhouse that trades in the bow for close combat damage dealing.
The Cleric: Tank, healer and buffer, the cleric boasts a range of survival and crowd control abilities that makes him a welcome addition to any group. They are however, quite weak on the damage aspect.
The Paladin: Though low in damage, the Paladin is a spell casting tank with a knack for survival with a good measure of the group supporting and enemy disrupting abilities of the cleric.
The Priest: Acting as the traditional healer and support caster role, the priest is Dragon Nest's main support powerhouse, with some secondary damage dealing spells.
The Sorceress: Short to medium range spell caster, the Sorceress' focus is a mix of damage-dealing attacks, status and crowd control abilities.
The Elementalist: Focusing on elemental magic, this sub-class boasts a range of high damage and crowd control magic, with the tradeoff being lower toughness.
The Mystic: A more balanced alternative to the elementalist, the Mystic's main focus is crowd control rather than damage, using gravity to throw enemies around the area.
The Tinkerer:The Tinkerer uses a variety of attacks that hit a wide area from mid- to long-ranges to deal damage, heal, and defend their allies, and their low Strength and Vitality are offset by strong Agility and Intellect.
The Engineer: Engineers command a vast arsenal of rockets, turrets, and robots to deal damage and control the battlefield. In addition to direct-damage skills, the Engineer can also bolster Alfredo, transforming the robo-butler into the ultimate bodyguard.
The Alchemist: Masters of all things chemical, Alchemists use various tinctures and tonics to heal allies, poison enemies, and dish out elemental damage. With the power to tip the scales of battle in their party's favor, Alchemists make excellent all-around supporters.
The Kali: The Kali combines fast and fluid melee combat with dark magic that cripples her enemies and bolsters her allies. Her relentless strikes and debilitating de-buffs weaken foes and leave them open to attack.
The Screamer: Screamers embrace the power of fallen spirits to protect allies and weaken enemies with status effects and continuous damage. Screamers can even become invincible for a short time.
The Dancer: Dancers unleash a flurry of chakram attacks and magical abilities in a deadly dance that overwhelms enemies. Dancers are lithe and agile, and they dart from enemy to enemy in the blink of an eye.

Status: Released
Release Date: Sep 01, 2011
Business Model: Free to Play
Developer: Eyedentity Games
Publisher: Eyedentity Games
Category:

Stand-alone

Genre(s):

3D, MMO, RPG, Fantasy

Platforms:

PC


Editor's Score: 4/5

Pros:

+Flashy skill-based action.
+Interesting and easy-to-follow storyline.
+Very well polished with cinematics.
+Extensive PvE Content.

Cons:

-Gender-locked, typical classes.
-Limited character customization.



Recommended System Requirements:

OS: Windows XP / Vista / 7 / 8
CPU: Intel Pentium Dual Core 1.0 ghz or better
RAM: 2GB
GPU: NVIDIA 8000 series or newer
HDD: 4GB



Description: Dragon Nest is a fast paced 3D fantasy action MMORPG. The game's most unique aspect is its fun dynamic combat system. Unlike other MMORPGs, Dragon Nest offers randomized dungeons which keep the game fresh.
Amplitude's Endless Day will unlock a mysterious set of events in each game, Endless Legend, Endless Space, and Dungeon of the Endless, enco...
by DizzyPW
Two years after Auto Club Revolution's introduction on PC, Eutechnyx today unveiled details of how the free-to-play motorsport experience is...
by Mikedot