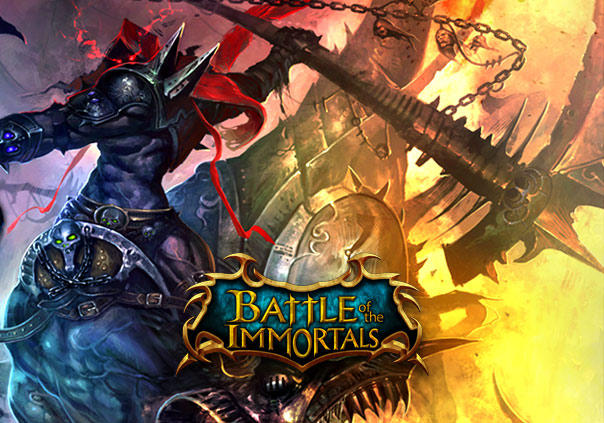 Battle of the Immortals is an action MMORPG that blends Norse mythology with a Qin Dynasty era Chinese game world. The game has many staple features such as pets, mounts, PvP combat, and an auto-navigate system but also has plenty of new innovations. Among these is the Soul Gear system in which equipment gains experience and grows with use. Additionally, the Zodiac System grants characters special powers at certain times depending on their character's selected birthday.

Classes:

Berzerker – Ruthless fighters that excel at physical combat and demoralizing opponents. Berzerkers can dish out consistently high damage and have high physical defense. They are vulnerable to magic attacks.

Champion – Disciplined warriors who excel at defense. Champions use shields and have high physical and magical defense. They can draw enemy attacks away from their allies as well.

Slayer – Silent stalkers with high dexterity. Slayers execute quick strikes and deliver critical blows. They make up for their lack of defense with evasive abilities and skills that disable their opponents.

Magus – The masters of elemental magic. Magus can deal heavy damage to a single or multiple targets in an area. They have low physical defense and rely on allies for protection.

Heretic – The priest class of BOI. Heretics control the flows of life and death with their spells. They can protect and heal their allies, or corrupt enemies with shadow skills. A must-have in any serious group.

Summoner – With immeasurable power at their fingertips underestimating them would be a grave mistake. While both magically and physically capable, the Summoner uses both traits to inflict maximum damage.

Status: Released
Release Date: May 04, 2010
Business Model: Free to Play
Developer: Perfect World Entertainment
Publisher: Perfect World Entertainment
Category:

Stand-alone

Genre(s):

2D, MMO, Adventure, RPG, Fantasy

Platforms:

PC


Pros:

+Interesting pet system, catch any monster.
+Auto-Navigate system makes questing simple.
+Soul Gear & weapons that gain levels.

Cons:

-Poor character customization.
-Interface could be better.
-Too many automated bot systems.



Recommended System Requirements:

OS: Windows XP, 2000, Vista, 7
CPU: Mid to High Range Dual-Core 2.5GHz CPU
RAM: 2 GB
GPU: GeForce FX 5200 128MB / ATI Radeon 9500 128MB
HDD: 8GB



Description: Battle of the Immortals is an action oriented 3D fantasy MMORPG. The game mixes Norse and Chinese mythology to create a unique game world and lore. Play as one of 5 classes, each with their own special armor sets that grow along with the character.
Gamigo Announces Brand New MMORPG - Loong: The Power of the Dragon. It's a 3D Fantasy MMORPG that cost $10 million to develop. It begins ...
by Guest
Prime Arena is an upcoming MOBA on the way to Steam's Early Access system. It's part MOBA and part Survival game, inspired partly by...
by Ragachak
The legendary developer of titles such as Thief, System Shock and the original Underworld Ultima games announces a Kickstarter campaign for Un...
by Mikedot