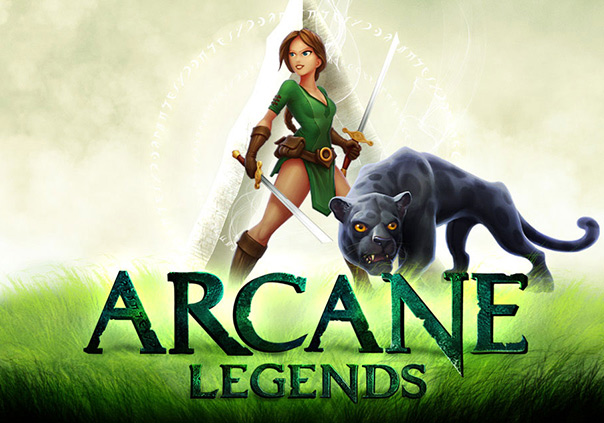 Unlike many MMOs, Arcane Legends does not use auto attack for battles, but requires the player to tap on an attack button. Holding the button will launch a more powerful attack, an effect carried over to the various skill attack buttons available. Although many skill attacks can be acquired, only four can be assigned at a time, keeping the UI nice and clean. Players will also tap the health button to remain in battle, provided there's any health available.
Pets are powerful companions, not just cosmetic collectibles or a trivial side game. Each pet fills a crucial role by engaging in combat, performing various actions based on their skill sets and granting a unique bonus. Pets also increase in power as a player progresses through the game.
Players will choose from three classes: powerful Warriors, devious Rogues or mysterious Sorcerers, each with their own set of abilities. Party members will be able to combine their abilities to unlock explosive combos for devastating effects. As players level, they choose to specialize in certain skills, allowing them to further customize characters to suit their play style.

Status: Released
Business Model: Free to Play
Developer: Spacetime Studios
Publisher: Spacetime Studios
Category:

Mobile

Genre(s):

3D, MMO, RPG, Fantasy

Platforms:

iOS, Android


Pros:

+Very intuitive UI
+Cross platform playability
+Lots of pets to choose from

Cons:

-Limited character customization
-Generic gameplay elements



Recommended System Requirements:

iOS: iOS 5.0 or later
Android: Android 2.3 or higher



Description: The core of Arcane Legends is the groundbreaking combat system that delivers fast-paced, action-oriented co-op and player-vs-player gameplay of any Legends title. Players will decide whether to use multiple quick attacks or take the time to charge up and land more destructive strikes.
Battle Commands takes on the strategic approach where you build up structures and units that provide either defense, offense, and/or resources
by Ojogo
NCSOFT® and ArenaNet™, publisher and developer of the acclaimed Guild Wars franchise, today released its "September 2014 Feature Pack,&qu...
by Mikedot