War of the Immortals is a top-down MMORPG by Perfect World, also known for Rusty Hearts, or Forsaken World. You embody one of many different classes in an epic, legend-themed universe as you fight various mythical beasts ranging from fire dragons to valkyries. Fight your way alongside your friends through a storyline that will take you through Atlantis, Valhalla and further in your quest to preserve existence as you know it.
Publisher: Perfect World
Playerbase: Medium
Graphics: Medium Quality
Type: MMORPG
EXP Rate: High
PvP: Area PvP
Filesize: 2,930 MB
Pros: +Epic style and art direction. +Interesting legend based setting. +A plethora of interesting classes to play with. +Lots of pets, titles, and other goodies to play with. +In-game video recording system.
Cons: -Difficulty is way too low. –Little character customization. –Gift system can be annoying.
Overview
War of The Immortals Overview
War of the Immortals is Perfect World's new MMORPG set in a world based on myth and legends. Players embody one of many classes as they travel, fight, and craft their way through their favorite environments. War of the Immortals is one of those games that doesn't try to bring too many new ideas to the table, but what it does, it does tolerably well. Though it is a grinding experience similar to other MMOs, War of the Immortals offers interesting classes, bright environments, cinematic backgrounds and a pet collection system much worthy of mention.
War of The Immortals Screenshots
War of The Immortals Featured Video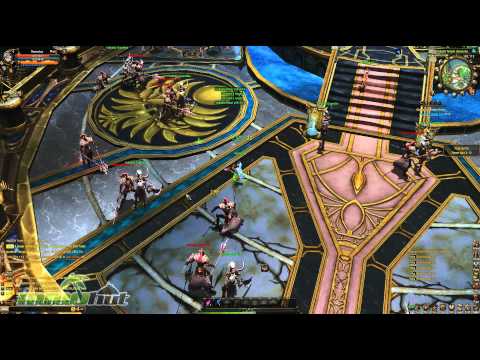 Full Review
War of The Immortals Review
The new and little discussed creation of Perfect World, War of the Immortals brings to the table the theme of gods, myths and legends, putting players directly into worlds taking inspiration from mythical lands such as Atlantis, Asgard, etc. Like many other free-to-play MMOs, it takes the tried-and-true road. If you've spent any length of time playing Chinese or Korean games, you'll recognize the pattern here; top-down MMORPG with a WoW-style skill bar, a lot of stats that are never explained, low difficulty and of course, those in-game "gifts", sent your way just for playing. With an already solid roster including big names such as Rusty Hearts and Forsaken World, it's no surprise that War of the Immortals has a quality of its own. The question is, can it stand out from its peers, or will it fade away as the lonely title in the cell-shaded shadow of Rusty Hearts?
Just Like Home
After choosing your server and most likely gazing for a few seconds at the cinematic background screen, you're brought to the character creation screen. Not much to see here; a few choices of faces, hair, and icons. There is, however, an interesting selection of classes. Berserker, Champion and Duelist fill in for the various melee roles, Enchantress and Heretic as healers, and Magus, Ranger and Slaver as ranged DPS.  Whichever class you usually play in MMORPGs, there's something for you to find here. And let me tell you, it doesn't take long to realize the developers don't take the word "Epic" lightly. Gigantic pauldrons and weapons galore is the name of the game here, and if realism is your thing, you might want to move on. With a good amount of servers, starting areas aren't too crowded, and questing is fairly straightforward. There's no competing for kills here, which is definitely a good sign (In most cases anyway). The learning curve is small, but the experience at this point is hampered by a truckload of interface goodies and bits, menus that could easily be integrated into others, flashing signs left and right, things and stats that are left unexplained, so on. The graphics are very okay, as long as you don't expect too much, and while it's no Rusty Hearts beauty, it has a certain brightly colored, simplistic quality.
[SinglePic not found]
Strange Unicorns
One thing you'll notice right away is the leveling speed. In War of the Immortals, you level FAST; and you won't be staying in the same area for too long. Each level has you assign points to stats, and sometimes gain a skill. Unfortunately, there are not many skills to talk about here, and by the time you reach the max level, you've got about a dozen or so of them. There is very little room for customization, be it through character skills or appearance, but more on that later. This is your usual stuff – grab quests in town, which is usually one or two at a time, then venture out to beat bad guys in the face. On this subject, War of the Immortals is linear and straightforward. Quests are rarely ever complex, and the difficulty is not very high, so don't expect crazy stuff here. Each class fights differently, and part of the fun is trying them out to see the flashy effects. Some abilities such as "XP Abilities", which rely on a slowly regenerating bar of Rage, are extra-fun and powerful, often capable of wiping out an entire screen's worth of enemies in one go. This is also a game that takes its storyline seriously; the player has access to a fancy looking journal that resumes each chapter of your progress through the game's storyline. The PvP is not unlocked till later during the game, and consists of area-based action, with future plans for guild territorial wars.
Bag o' Goodies
War of the Immortals excels on the little goodies aspect, things perhaps less important, but that nonetheless add to the charm of the game. For one, War of the Immortals has a simple to use, built-in video recorder. Crucial for gameplay? No, but certainly an interesting feature. The mounts are interesting, and unusual to say the least. As a Magus, I found myself riding a strange lion unicorn thing, as an example. Add to this a mountain of titles and outfits, and you've got the basic MMORPG shebang. One thing that definitely has War of the Immortals exceed in the goodies department though, is the pet system. How it works is simple, most creatures you destroy have a small chance of dropping a capture-able version of themselves. You may then summon them, use them in combat, and customize them with abilities. Hell, they even have their own sex (which is a sort of odd flashback to Pokémon games). Last but not least, you've got the in-game store, with its collection of consumables and outfits different to each class. There's not an immense selection, but it's well furnished, and not too costy. Also, Perfect World ZEN cards can be purchased in any good gaming store at slices of 10 bucks or so a piece, so if you're the type that prefers avoiding putting your credit card number into suspicious Chinese sites, here's your chance.
Final Verdict: Fair
This is very much a casual experience; fast leveling, flashy skills, interesting spells make for a fun, though linear experience. It's doubtful that War of the Immortals will cause much ripple in the gaming world, and it'll inevitably sit in the shadow of better Perfect World titles. That's not to say that it can't entertain you, and if you're looking for a simple, fun game that doesn't take much commitment at all, give War of the Immortals a try. Just don't expect Game of the Year material.
Screenshots
War of The Immortals Screenshots
Links
War of The Immortals Links
System Requirements
War of The Immortals Requirements
Minimum Requirements:
OS: Windows (R) Vista/ XP/2000 (95/98/ME/NT/Server are not supported)
CPU: PENTIUM DUAL CORE 2.1X
RAM: 1GB
HDD: 10GB
Graphics Card: GEFORCE 4600GT 256MB
DirectX: 9.0c
Recommended Specification:
OS: Windows (R) Vista/ XP/2000 (95/98/ME/NT/Server are not supported)
CPU: PENTIUM DUAL CORE 3.0
RAM: 3GB
HDD: 20GB
Graphics Card: GEFORCE 9800GT 512MB
DirectX: 9.0c or better
War of The Immortals Articles