Dragon Nest is a fast paced 3D fantasy action MMORPG . The game has cute anime inspired 3D graphics and is set in the world of Lemuria. The game's most unique aspect is its fun dynamic combat system. Unlike other MMORPGs, Dragon Nest offers randomized dungeons which keep the game fresh.
Publisher: Nexon
Playerbase: High
Graphics: Medium Quality
Type: MMORPG
EXP Rate: Medium
PvP: Arena
Filesize: ~4 GB
Pros: +Flashy skill-based action. +Funny, awesome voice acting. +Interesting and easy-to-follow storyline. +Very well polished. +Cinematics!
Cons: -Gender-locked, typical classes. –Limited character customization.
Overview
Dragon Nest Overview
Dragon Nest is a fantasy MMORPG with an emphasis on skill-based fighting and combos. Originally released in 2010 to the Korean market, Nexon brings Dragon Nest to the North American market just a year later with a fresh set of voice actors and a whole lot of hype. Dragon Nest lets you play one of four classes, each with their set of two sub-classes, as you quest your way through colorful anime-inspired environments.  It will undoubtedly appeal to those who tire of the World of Warcraft UI model, along with those who enjoy a more fast paced, less repetitive fighting system. Players will enjoy how differently each class plays from one another, along with the crazy powerful effects as enemies get lit on fire, fried by electricity or just blown away by the characters' many abilities. You may play as:
The Warrior: Classic close-combat tank & spank class, the warrior starts out as an even balance of offensive and defensive skills.
The Swordsman: Swordsmen are warriors whom, once specialized, embrace the damage-dealing aspect of their class, which can be again specialized to one, or many opponents through their choice of skills.
The Mercenary: Mercenaries are nothing short than traditional, full-blown tanks. Though they lose out on Swordsman damage, they can take a beating and easily ask for second servings.
The Archer: Straightforward long-ranged damage dealer, the archer is fast, hard-hitting, and fragile. Archers will need to use their mobility to ensure they can live to keep dishing out the pain.
The Sharpshooter: Specialized in long-ranged combat, the Sharpshooter is the archer with a full focus on long-range damage, but with even more vulnerability. This class hits like a truck.
The Acrobat: Losing a lot of the long range damage dealing, the Acrobat is an agility and mobility powerhouse that trades in the bow for close combat damage dealing.
The Cleric: Tank, healer and buffer, the cleric boasts a range of survival and crowd control abilities that makes him a welcome addition to any group. They are however, quite weak on the damage aspect.
The Paladin: Though low in damage, the Paladin is a spell casting tank with a knack for survival with a good measure of the group supporting and enemy disrupting abilities of the cleric.
The Priest: Acting as the traditional healer and support caster role, the priest is Dragon Nest's main support powerhouse, with some secondary damage dealing spells.
The Sorceress: Short to medium range spell caster, the Sorceress' focus is a mix of damage-dealing attacks, status and crowd control abilities.
The Elementalist: Focusing on elemental magic, this sub-class boasts a range of high damage and crowd control magic, with the tradeoff being lower toughness.
The Mystic: A more balanced alternative to the elementalist, the Mystic's main focus is crowd control rather than damage, using gravity to throw enemies around the area.
The Tinkerer:The Tinkerer uses a variety of attacks that hit a wide area from mid- to long-ranges to deal damage, heal, and defend their allies, and their low Strength and Vitality are offset by strong Agility and Intellect.
The Engineer: Engineers command a vast arsenal of rockets, turrets, and robots to deal damage and control the battlefield. In addition to direct-damage skills, the Engineer can also bolster Alfredo, transforming the robo-butler into the ultimate bodyguard.
The Alchemist: Masters of all things chemical, Alchemists use various tinctures and tonics to heal allies, poison enemies, and dish out elemental damage. With the power to tip the scales of battle in their party's favor, Alchemists make excellent all-around supporters.
The Kali: The Kali combines fast and fluid melee combat with dark magic that cripples her enemies and bolsters her allies. Her relentless strikes and debilitating de-buffs weaken foes and leave them open to attack.
The Screamer: Screamers embrace the power of fallen spirits to protect allies and weaken enemies with status effects and continuous damage. Screamers can even become invincible for a short time.
The Dancer: Dancers unleash a flurry of chakram attacks and magical abilities in a deadly dance that overwhelms enemies. Dancers are lithe and agile, and they dart from enemy to enemy in the blink of an eye.
Dragon Nest Screenshots
Dragon Nest Featured Video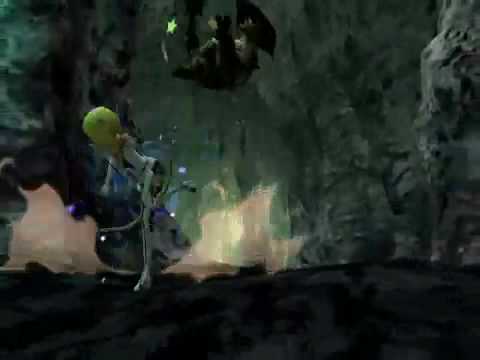 Full Review
Dragon Nest Review
At this point, it's fairly safe to assume that most games published by Nexon will get a fair amount of hype, and it's definitely the case with Dragon Nest, with attentions such as its own theme song written by Gackt for its Japanese version. J-pop aside, this is actually Eyedentity Games' very first title ever even though it bears a striking resemblance to other free MMOs out there such as Vindictus. That said, does Eyedentity Games make good on its first shot, or does Dragon Nest fall to the dust amidst an increasingly high quality free to play MMO market? Read on!
Those Monsters Deserve A Poke With A Sharp Stick!
One of the first impressions one is most likely to get is how smooth the graphics look. It's worth sayjng right now, it's a fairly polished title, and it has definitely profited from the time it has been out in Asia. A few things have been redone, such as the voices, and you'll be pleased to know that your days of trying to understand sentences with total disregard for syntax are over, for the moment at the very least. Unfortunately, even though the game installs almost 2 gigs of data on your computer, you need to access it by using the web site, quite like a flash MMO. Even when you click the game icon, it leads you to the web site rather than the actual game. Why not just link it straight to the patcher? Moving on; the character creation is as simplistic as most free to play games, with the most unfortunate feature being that classes are gender locked, and the most you can get out of it is to make a manly sorceress, or a very girly cleric(Go ahead, try it). There's a decent selection of haircuts, attires and starting weapons, which does allow for a bit of customization, but nothing to write home about. Type in a name, confirm, and you're sent straight into the game.
Go Forth And…. Spank Those Monsters!
Or almost. You'll first be treated to a cinematic, which is quite a surprising feature for a free to play dungeon crawler, leading to one of two starting areas (Clerics & Sorceresses, Warriors & Archers), each with their own story and environment. First you'll go through a sort of tutorial mission introducing you to the basics, learn of X girl in distress (I didn't say it was original), and proceed to do your heroic business before being sent to town. For the most part, non player characters have voices and various lines of their own (bad accents are avoided this time around), a lot of them quite light hearted, a few of which were chosen for the headers of this review. This encourages the player to read the quest stuff, most of which is interesting. Eyedentity Games takes advantage of the linear nature of the game by giving it a firm storyline, punctuated by interesting boss fights and occasional cinematics. The whole process has a very vague feeling of console single player gaming. It's a simple system that most definitely will feel familiar to experienced MMO gamers; get quests, go out into an instance alone or with a group, whack your way to success and then come back for rewards.
Did I Say Spank?
The combat is satisfying and much less repetitive than for most F2P MMO games. A good touch is that you get to choose your difficulty level if you feel like higher risk/higher reward. For the most part, it's not actually very hard until you get to the top two difficulties on solo, and some quests can only be done on certain difficulties. The spells and effects are nifty, things get blown back, paralyzed, poisoned, and smashed to smithereens. Classes each specialize in a type of combat; warriors get down and dirty, clerics will fight close but mostly play a support role, the sorceress will try to stick at mid-range while the archer wants to be as far as possible. There is no targeting, so you'll be actively whacking away while alternating abilities assigned to numbered hotkeys. There's also no mechanic in Dragon's Nest to limit play, like fatigue, which is a very good thing. There's even the opposite, called Empowerment, which gives you more experience the more you play, up to a certain limit. The progression consists of a skill tree whose abilities you buy with skill points gained when leveling, with the capability of gaining one of two advanced classes being unlocked at level 15. Instances are straightforward, even if randomized. You beat stuff up, encounter a boss, pick one of three chests for a randomized reward, and head to town.
I Can Teach You Many Techniques For Dealing… Discomfort!
In town, you repair, get more quests, sell your unused items and look for groups to adventure with. The grouping system is one of the game's least entertaining aspects, lacking an automatch feature, and leaving you to browse through a list of groups looking for the right one. While the steady population of this game means you'll never really be lacking players to play with, the time it takes to find a group, clear away the AFKs, get to the instance entrance and finally play, makes it easier to sometimes just solo your way through. The items are separated between normal and costume items; normal ones give you most of your stats while the costume items give you your appearance, and have a duration limit. The money store, as of the writing of this review, contains very few items, most of which are consumables used to speed up the progression. There are however a few aesthetic items can be found such as different skin and eye colors, and it's very likely that they'll eventually be joined by costume items in the future.  Titles in Dragon Nest also award certain stats, and so do a special type of items called Crests, for which you unlock more slots as you play. Finally, you'll also encounter the friendship mechanic which consists of doing certain quests to get in good standing with certain NPCs, which in turn give you discounts at the local stores; an interesting feature, but nothing game changing. Dragon's Nest many small features, while not game changing on their own, contribute to lessen the repetition normally found in such free to play MMOs.
Final Verdict: Good
Dragon Nest is a very good game with super production value; it has cinematics, voice acting, great storylines and entertaining skill-based fighting. In a way, it aspires to bring a quality and polish normally only found in traditional MMOs to the F2P market. Though some people will be turned off by the cartoony graphics and the game's light hearted tone, it has all the right ingredients for addictive, long-term gameplay, even with its minor flaws. Moreso, there is content down the pipe for post-release patches, such as brand new advanced classes. Keep an eye on this one!
Screenshots
Dragon Nest Screenshots
Links
Dragon Nest Online Links
Coming Soon…
System Requirements
Dragon Nest System Requirements
Minimum Requirements:
OS: Windows XP +
CPU: Pentium 4, Dual Core
RAM: 1 GB
HDD: 4 GB Free
Graphics Card: Nvidia GeForce 7600 or better
Recommended Specifications:
OS: Windows XP +
CPU: Pentium 4, Dual Core 1 GhZ
RAM: 2GB+
HDD: 4 GB+ Free
Graphics Card: Nvidia 8000 Series (or better)
Dragon Nest Articles
Similar games we recommend
Vindictus - Vindictus is a fast paced 3D fantasy MMORPG brawler. Based on Celtic mythology, Vindictus allows players to fight through instanced stages hack-and-slash style.