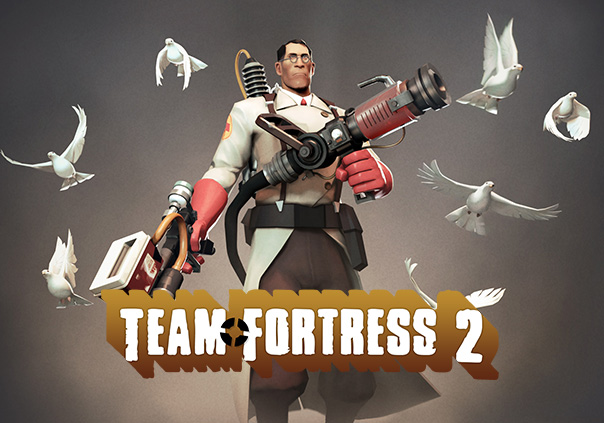 Team Fortress 2 is a cartoon-y MMOFPS with a super-dose of character, and more pop references than you can handle in one sitting.
Features
►Players play one of 9 mercenary classes working for one of two corporations (RED and BLU) duking it out tooth-and-nails over a variety of objectives ranging from briefcases, to giant bombs in mine carts.
►With a tons of weapons, achievements, hats and maps, this game has incredible longevity, and will keep you latched to your screen hoping for that one achievement, or that specific weapon you're looking to craft.
►Multiple game modes, including Capture the Flag, Team Deathmatch, Control Points/Domination, and others.
Classes:
Demoman, Engineer, Heavy, Medic, Pyro, Scout, Sniper, Soldier, Spy
Expansions
Team Fortress 2 has seen over 600 updates in the 7+ years it has been in operation. Check them out here.
Microtransactions
Yes. Mostly hats.

Status: Released
Release Date: Oct 09, 2007
Business Model: Free to Play
Developer: Valve
Publisher: Valve
Category:

Stand-alone

Genre(s):

3D, Shooter, Casual

Platforms:

PC, Mac, Linux, Steam, Xbox 360, PS3


Editor's Score: 5/5

Pros:

+Fast-paced, intensive action.
+Every class is a blast.
+Efficient, simple crafting system
+Tons of items, achievements and goodies
+Hilarious, memorable characters.

Cons:

-Occasional latency.
-Sometimes frustrating item drops.
-Some classes can be situational.



Recommended System Requirements:

OS: Windows XP / Vista 7 / 8, OSX 10.5.8, Ubuntu 12.04, SteamOS
CPU: Intel Dual Core
RAM: 2 GB or more
GPU: GeForce 8800 or better
HDD: 15 GB



Description: Team Fortress 2 is an FPS developed by Valve, long ago released as a full-feature game, and now released to the free to play market. The players play the role of one of 9 classes divided into RED and BLU teams as they fight over a variety of objective in a plethora of different modes.
Independent games developer 'DragonJam Studios' is proud to announce the kickoff of a crowdfunding campaign to secure funds towards the de...
by Mikedot
TERA has a new update dropping today on their PC servers, Skywatch: Aerial Island, which adds the Exodor Archipelago.
by Ragachak