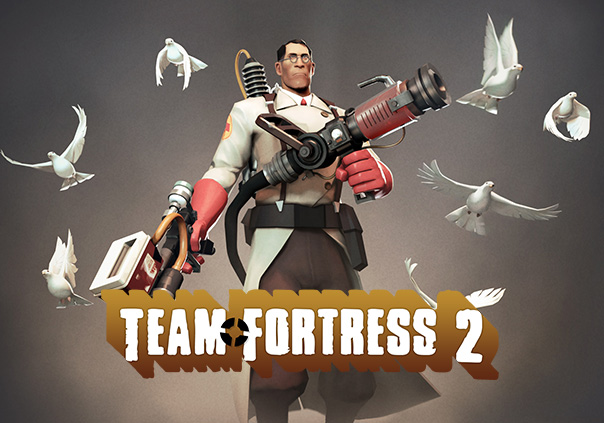 Team Fortress 2 is a cartoon-y MMOFPS with a super-dose of character, and more pop references than you can handle in one sitting. Players play one of 9 mercenary classes working for one of two corporations (RED and BLU) duking it out tooth-and-nails over a variety of objectives ranging from briefcases, to giant bombs in mine carts. With a tons of weapons, achievements, hats and maps, this game has incredible longevity, and will keep you latched to your screen hoping for that one achievement, or that specific weapon you're looking to craft.
Classes:
Demoman: Trap-setting, one-eyed Scottish demoman with a knack for blowing things to pieces. Is surprisingly good with a claymore.
Engineer: Texan cowboy with a knack for turret building. Incredibly efficient at point defense, you'll grow to love or hate his turrets.
Heavy: Chain gun wielding boxer, the medic's best friend. With a massive health pool, this is both the damage soaking, and damage dealing class.
Medic: Mad doctor wielding a surgery saw to battle. Specializes in deploying ubercharges on teammates, making them invincible for a short time.
Pyro: Axe-wielding pyromaniac specialized in ambushes, and generally setting living things on fire.
Scout: Super-fast class that uses its speed to outmatch opponents and quickly capture points.
Sniper: Long-range shooter with a knack for throwing jars of suspicious yellow liquids.
Soldier: Frontline tough guy with a rocket launcher, and a lot of punch.
Spy: Proficient knife fighter and mother lover, the spy can cloak and disguise himself into the enemy team.

Status: Released
Release Date: Oct 09, 2007
Business Model: Free to Play
Developer: Valve
Publisher: Valve
Category: Stand-alone
Genre(s): 3D, Shooter, Casual
Platforms: PC, Mac, Linux, Steam, Xbox 360, PS3

Editor's Score: 5/5

Pros:

+Fast-paced, intensive action.
+Every class is a blast.
+Efficient, simple crafting system
+Tons of items, achievements and goodies
+Hilarious, memorable characters.

Cons:

-Occasional latency.
-Sometimes frustrating item drops.
-Some classes can be situational.



Recommended System Requirements:

OS: Windows XP / Vista 7 / 8, OSX 10.5.8, Ubuntu 12.04, SteamOS
CPU: Intel Dual Core
RAM: 2 GB or more
GPU: GeForce 8800 or better
HDD: 15 GB