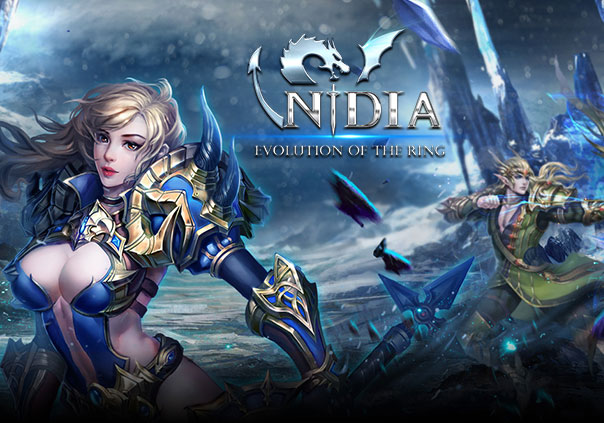 Nidia is a free-to-play fantasy browser game developed by iGameMore. In Nidia the Order of Dragons is back at their evil attempts to wipe humanity out of the fantasy world known as Nidia. They almost succeeded in their first attempt and surely wouldn't be starting a second attempt if they weren't prepared. It is now up to you to combat the Order of Dragons once, but this time you've got an ace up your sleeve. The Dragon Rings and their immense power will also be at your disposal, giving you a fighting chance against such powerful beings.
Players will get to become one of three different classes on their journey: Archer, Warrior, or Mage. Each has its own pros and cons that make them more or less useful in a variety of situations, including PvP. Warriors are focused on getting in close to deal damage to their enemies, Archers try to keep their enemies at a distance at all times, and Mages are more centered around controlling the flow of battle and dealing heavy area damage.
Questing and grouping can be automated or done manually, the choice is entirely up to the player. Auto-pathing and auto-grouping systems will make it easy to work your way through levels. Once you reach max level you can exchange your experience you've gained for evolution points, giving you the chance to start over with a stronger version of your character. Questing won't be the only way to get experience and gear either. Dungeons can also be explored solo or with other players, but only for a set amount of time so you'll have to make the best use of your time you can once inside.
Both PvP and PvE content is also available in Nidia, giving players a few different gameplay choices. World PvP can be unlocked at later levels, and guilds can be formed between players to gain access to exclusive features that solo players wouldn't otherwise be able to experience.
Can you end the war on humanity once and for all and stop the Order of Dragons' dastardly plans? Find out in Nidia!
Status: Released
Release Date: Dec 14, 2016
Business Model: Free to Play
Developer: iGameMore
Publisher: iGameMore
Category:

Browser

Genre(s):

3D, RPG, Fantasy

Platforms:

PC, Mac, Linux


Pros:

+Easy to use automated questing system.
+Can use automatic grouping.
+Good graphics for a browser game.

Cons:

-Excessively automated for some players.
-Little class depth.
-Story has relatively little depth.



System Requirements not yet known.


Description: Nidia is a free-to-play fantasy browser game where players can explore the fantastical world of Nidia and use the power of the Dragon Rings to help protect the world from the Order of Dragons. Will you prevail, or will humanity fall to the Order of Dragons newfound power?
Nosgoth has recently left Closed Beta and officially entered Open Beta last month. Since then, the Nosgoth team has been working hard.
by ApocaRUFF
NEOWIZ, creators of the epic strategy RPG Brown Dust, announced today its decision to rebrand the project as Brave Nine.
by MissyS
Daybreak Games has announced they're going to dive deep into the kingdom of the ocean this autumn.
by Ragachak