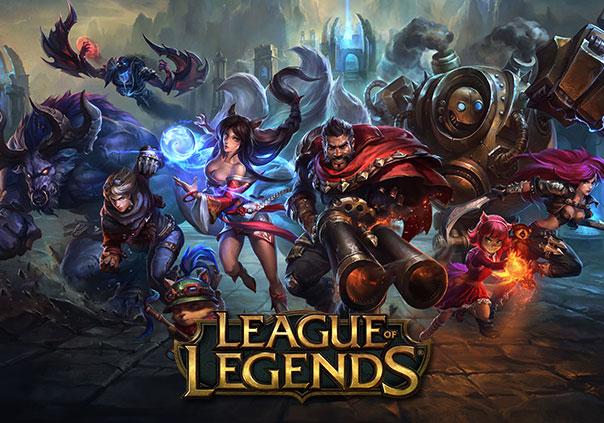 Overview
League of Legends is a widely successful MOBA, designed as a successor to a popular DOTA-created map, and is developed and updated regularly by Riot Games. A team-based online title, whether it's 5v5 or 3v3, teamwork is key to success. Several regular modes await players, as well as a rotating selection of limited-time special modes. There are currently 137 champions in League of Legends, with older characters receiving updates to their kit and design to make them more in line with the rest of the more recent champions. The ultimate goal is to work together with your team to take down the other base by breaking down their towers and defenses to get access to the enemy stronghold.
The classic mode is the 5v5 "Summoners Rift" map with three lanes and a jungle. There are optional (but important) mini-bosses such as the Dragon and Baron, which offer buffs critical to success. There is also the 3v3 "Twisted Treeline" with two lanes, and 5v5 "ARAM" which is an all-random mode with one lane. Summoners Rift has also two options: Blind Pick (everyone picks whatever they want) and Draft Pick (All five players have a ban, selection is done in turns). Players who wish to do battle against the AI may also do so to avoid playing against players or simply learn how to play the game. Though there are well over 100 champions, new players can rest easy with the rotating cast of free champions with every role having options.
Tournaments, Competitive Ranked matches and a robust, active esports scene, there's a great deal of competition in simply playing or watching League of Legends. League of Legends is also regularly updated, adjusting the meta, from items to characters to keep the game fresh and intense. The players are known as "Summoners" who pick their champion to represent them in the battle as they push towards the enemy Nexus. Leveling up your account gives cosmetic bonuses, and the old Rune System has been removed for "Runes Reforged". Now players do not have to farm Runes and level up for Masteries to keep them up to date with the rest of the playerbase. Now players pick from several styles of Runes, picking a "Keystone Rune" as their focal point. Then secondary Runes are picked, and a few Runes from another style of Rune to create your own way to play. It's never been easier to start playing League of Legends.
Story
League of Legends takes place in a place known as Runeterra. The majority of champions hail from Runeterra, save mighty entities from the Void or beyond (Aurelion Sol). Each nation or territory has its own style of government, but there are so many incredibly powerful entities, that a need for a place to settle disputes became evident. The "Fields of Justice" were created, so that these nations could send their champions to represent them in battle. The story has changed in quite a few ways over the years, the "Institute of War" disappearing, Summoners being removed as the chess players who wielded the Champions in battle. Now the focus is on the actual territories on Runeterra. From the frozen wastelands of the Freljord, Piltover & Zaun which are dueling city-states, to the mighty empire of Noxus, each one is different, with their own goals, ideals, and governments.
Roles
Instead of races and classes, League of Legends, as a MOBA features roles that players pick up. Each has their own equipment designed for them, Runes that enhance their abilities, and pros and cons. The three lanes of Summoners Rift has a "top lane", "middle lane", "bottom lane", and the "jungle". Traditionally, the Top Lane is ran by one Tank or Bruiser/Fighter, the Middle Lane is controlled by the Mages, the Assassin (or Bruiser, Mage, even support) in the Jungle, and a Support and Marksman in the bottom lane. At least one tank is ideal, but more never hurts.
Marksman: They typically deal physical damage, and are often carries that help push down the towers and win the game. While everyone works together, they often rely on a support to help set up their early kills and get them ready to win team fights.
Support: Healers, Tanks, wielders of heavy Crowd Control, their goal is to set up kills. Saving the lives of their teammates no matter what lane they're in, roaming to where they're needed and getting their carries whatever kills they can. While everyone can ward, the brunt of this falls onto the Support. But everyone can and should ward. Vision wins games.
Jungler: Typically high-burst damage characters who show up out of nowhere, typically when the enemy has overextended to kill them. They should definitely share those kills with the lane they're in, but it's not always that way. Another job for the jungler is to ward and to get as many of the side objectives as they can. An important note for players, that objectives win games, not kills.
Mages: More high-burst damage, but it's magical instead of physical. Mages aren't as mobile as junglers, but can still deal incredible damage. Junglers tend to babysit this lane or top lane to get them ahead of their opponent, and working alone means they don't have to share any of their XP. Being in the middle lane means they can wander to top or bottom to help out as needed.
Top Laner: Usually Bruisers and Tanks, they build for high defense, high health, because these characters tend to have damage without having to build in for it. This lane is good to defend the Baron Pit, and it behooves well of them to be a good duelist. They're often alone, except for the jungler or occasional mage roaming.
Microtransactions
Microtransactions have also changed in League of Legends. Players no longer have to purchase Runes or Rune Pages. Players can acquire Champions with Blue Essence, which is earned by playing the game, or by spending Riot Points (real-money currency). Each character has at least one skin to purchase, but older characters tend to have far more. These vary in price, with Legendary/Ultimate skins having far more improvements in terms of voice-over, specialized particle effects and more. These come out with every patch, and all cost Riot Points. For people who want to gamble, there are Hextech/Masterwork/Event Lootboxes, which come with random items within them. The Champion Shards found within can be bought with Blue Essence, and Skins are purchased with Orange Essence (which also come from these boxes). Emotes, Accessories (Ward Skins, et cetera), Ward Emotes, and even cosmetics to support the esports system can be purchased in the store. The esports cosmetics include Bundles that support specific teams and directly benefit the esports players.

Status: Released
Release Date: Oct 27, 2009
Business Model: Free to Play
Developer: Riot Games
Publisher: Riot Games
Category:

Stand-alone

Genre(s):

3D, MOBA, Fantasy

Platforms:

PC, Mac


Editor's Score: 4/5

Pros:

+Many playable heroes (100+).
+Multiple game modes.
+Enjoyable at all skill levels.

Cons:
-Toxic Community that may deter new players.
-Microtransactions needed to acquire a decent roster of champions in any timely manner.



Recommended System Requirements:

OS: Windows XP / Vista / 7 / 8 / Mac OSX
CPU: Pentium 4 @ 2.0 GHz
RAM: 1024 MB (1GB)
GPU: NVIDIA GeForce 8800 or higher
HDD: 8GB Free



Description: League of Legends is a widely successful MOBA, designed as a successor to a popular DOTA-created map, and is developed and updated regularly by Riot Games. A team-based online title, whether it's 5v5 or 3v3, teamwork is key to success.
Dying Light brings back the enjoyment of good ol zombie crushing, and parkouring around a city with a threat. Its been a while since we have h...
by Proxzor
Gameforge and HEX Entertainment are expanding the beta of the digital TCG HEX: Shards of Fate with the first single-player content. The Frost ...
by Mikedot
Ring of Elysium's developers announced today that they are preparing their first international esports event.
by Ragachak