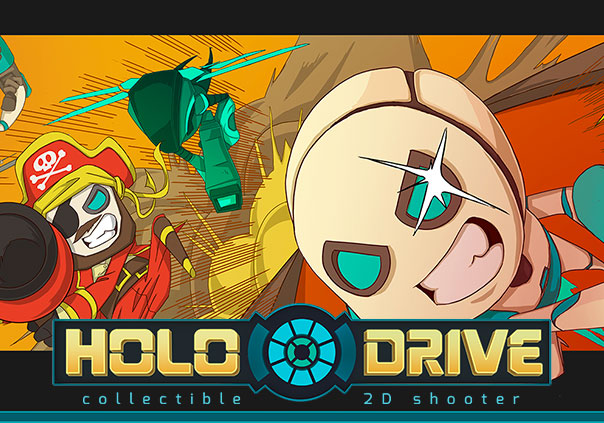 Holodrive is a free-to-play MOBA developed by BitCake Studio for PC and is available for download on Steam Early Access. In Holodrive a company called Holocorp created companion robots intended to become man's new best friend, but it turns out these robots had their own initiative. Turns out they just love to blow each other up! Now all dolled up and equipped with the most destructive weapons and power-ups out there, these robots are ready to battle and compete in special arenas to figure out who is the best!
In Holodrive you can create your own robot and take it into intense, fast-paced shooter battles with your trusty jetpack on your back. You'll learn to love blowing each other up, because best of all is that you'll materialize again right after and be ready for even more action! Each map can be used to your advantage and it'll be up to you to learn where anti-bullet barriers are located and how to teleport around the map.
What's best about your robot is that it can hold up to 7 different weapons at a time. That means 7 times the firepower and 7 times the combat possibilities! Weapons and ammo can be found as you work your way around the platforms on the map or you can pick up the weapons of your fallen enemies. Different kinds of weapons can also be acquired by opening packs and crafting them yourself. Power-ups will also be scattered around the map that can give you quite an edge against your opponents. Don't forget to grab those when you get the chance between dodging bullets and blasting enemies down.
Microtransactions can be made if you're looking to get some gear more quickly, but anything in the game can be acquired just by playing. All that's left is for you to harness your inner rage and let your robotic companion help you unleash it upon your foes!

Status: Released
Release Date: Mar 24, 2016
Business Model: Free to Play
Developer: BitCake Studio
Publisher: Versus Evil
Category:

Stand-alone

Genre(s):

2D, MOBA, Shooter

Platforms:

PC, Steam


Pros:

+Easy to learn.
+Active development team.
+Fun to collect customizable items.

Cons:

-Small community.
-Lacks controller configurations.
-Tutorials/explanations not very helpful.



Recommended System Requirements:

OS: Windows 10
CPU: Dual Core 2.6GHz
RAM: 4 GB
GPU: DirectX 9.0c compatible card with 512 MB
HDD: 4 GB



Description: Holodrive is a free-to-play MOBA where players can use their robotic companion in intense, arena shooting matches! All of the items in the game can be acquired just by playing, so all that you need to do is let your robotic companion help you unleash your rage upon your foes!
The "Broken" are not prepared for this: Serious Sam, one of the most badass shooter characters of all is coming to Wild Buster!
by Ragachak
Zero Point Software today released its second co-operative campaign map.
by MissyS