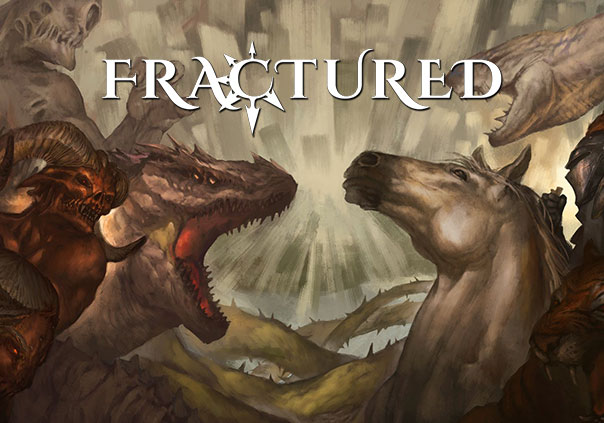 Fractured Online is an upcoming fantasy MMORPG developed by Dynamight Studios for PC. In Fractured players can experience a vast, sandbox-oriented, open world with fully interactive environments. Right from the beginning you can jump into the fray, defeating enemies with both skill and intelligence instead of equipment and level. Gather resources along the way, craft, trade, and start a settlement with your guild or lone wolf it. There are tons of different ways to play!
The universe of Fractured has three different races that can be played: Humans, Beastmen, and Demons. Each race lives on its own planet and has its own unique characteristics. Humans live in a feudal society where they can become anything they wish, good or bad. Beastmen are deeply connected with nature and defensively minded. They like to work cooperatively and live in a peaceful community. Demons possess an inner evil alignment and will prey on anything, even each other. If you're hungry for blood and want to become something of the likes of a ravager or assassin then the Demons are your true calling.
Every single item in Fractured is crafted by players. What this means is no finding battle axes on dead wolves or other ridiculous situations. Resources won't be distributed evenly in this world because there are profits to be made after all. Fight for your own share and trade at far away markets to really cash in on your efforts, but you'll have to make it there alive.
The universe of Fractured is very dynamic in nature with intense action combat mechanics. You'll have to aim and dodge attacks while mastering over 400 abilities! Environments are also fully interactable, meaning you can animate natural waters to protect you, freeze them to cross chasms, and more! Settlements will even start to pop up throughout the game world as players start working together to create empires, but beware that you'll also have to defend them from raids and other hostile groups.
Fractured brings dynamic content to the MMORPG scene in a tasteful way with the intent of providing truly unique adventures for players. You can really reap the rewards for your time and efforts in Fractured, so be sure to set aside some time for this game!
Status: Pre-Release
Business Model: Free to Play
Developer: Dynamight Studios
Publisher: gamigo
Category:

Stand-alone

Genre(s):

3D, MMO, RPG, Fantasy

Platforms:

PC





Description: Fractured is an upcoming fantasy MMORPG where players can jump right into the action of a wild world with a living economy. Fractured brings dynamic content to the MMORPG scene in a tasteful way with the intent of providing a truly unique adventures for players.
Over at PAX South 2017 several prominent members of the Twitch staff hosted a Q&A about the future plans of their popular streaming platfo...
by Kings Decree
GUNDAM Battle is an officially licensed mobile battle game by Bandai Namco and it's coming to the West in 2018!
by Ragachak
Independent developer and creators of Space Engineers game, Keen Software House, is launching a creation contest in collaboration with NVIDIA ...
by MissyS