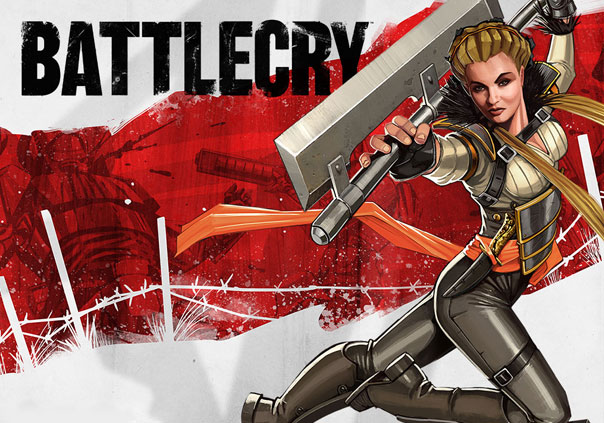 Battlecry is a free to play, team-based action game. Featuring 32-player battles, players will enter as a Warrior of their choice in a world where gunpowder is banned and disagreements are settled by elite warriors battling in an arena. The game's combat system includes active combat like grappling, mantling, and evasion, an Adrenaline system that unlocks limited powers, and deadly weapons that range from massive swords to energy guns.

Take on the role of an elite warrior and engage in brutal, high-action, 32-player battles in a variety of gameplay modes. Responsive, smooth controls unleash violent, high-impact, and stunning combo attacks previously reserved for modern brawlers. Dynamic movement allows you to seamlessly grapple, evade and mantle to quickly cover distances and evade the other team. Engage in combat and use the game's Adrenaline system to unlock special powers for a short time or conserve Adrenaline to unleash your lethal Ultimate ability when the time is right. In BATTLECRY, your skill, timing, and teamwork create a diverse gameplay experience.

Story:

The short peace that followed gave birth to the Pansophic Revolution – a golden age of industrial manufacturing and design. As technology advanced, old tensions reignited and soon the world faced the scourge of war once more. Fueled by technological Pansophic advancements, the face of warfare has changed. All disagreements are settled head-on by elite teams of chosen warriors from all over the world, with each member specializing in either high-tech ranged gadgetry or sophisticated melee weapons. Trained and bred for battle, they meet each other in sanctioned WarZones to face off for their share of glory.

Status: Pre-Release
Business Model: Free to Play
Developer: Battlecry Studios
Publisher: Bethesda
Category: Stand-alone
Genre(s): 3D, MOBA, Sci-Fi, Shooter, Fighting
Platforms: PC

Pros:

+ Active combat system.
+ Bloody and brutal.

Cons:

-Limited information available.



System Requirements not yet known.