UPDATE: This game has been shutdown and is no longer available
Sugar Rush is a 2D brawler MMO with cartoony graphics from Nexon. The game is set in the city of Bashew where players must fight to survive. Choose from one of the game's three classes and fight it out action RPG style against other players or even a robot army! Sugar Rush is a 2D fighting MMO done right, as the game offers numerous game modes, many interesting stages and more.
Publisher: Nexon
Playerbase: ??
Graphics: Medium Quality
Type: MMO
EXP Rate: Medium
PvP: Full PvP
Filesize: ~2GB
Pros: +Numerous game modes. +Smooth gameplay. +Good tutorial. Great interface.
Cons: -Few maps. -Fairly high end system requirements. -Few maps. -Only a handful of weapons and items in the game's store.

This is a Preview. This page will be updated when the game is fully released.
Overview
Sugar Rush Overview
Sugar Rush is a new 2D fighting MMO by Nexon, the folks behind the enormously popular MapleStory. Like their other title, Sugar Rush has both cartoony graphics and side scrolling movement. Like Rumble Fighter and Splash Fighters (Two similar MMOs), players in Sugar Rush get to beat each other senseless using bats, swords, maces, axes and numerous other fun weapons. Gameplay is room based, meaning the game has a central lobby and players must create their own rooms where up to 8 players can battle it out in various game modes. The game's three classes are:
Brawler – The brawler is an all around balanced melee class who has the most hit points in the game but fairly slow movement speed.
Ninja - Ninjas rely on their high damage and speed to defeat their enemies, but they have extremely low physical defense and hit points.
Morpher – Morphers are certainly the most unique of the three classes in the game. They can transform into mighty wolves or other creatures for a short period of time to deal devastating amounts of damage.
Sugar Rush Screenshots
Sugar Rush Featured Video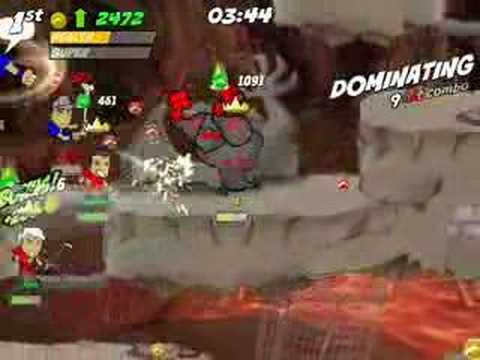 Full Review
Sugar Rush Review
Coming Soon… After the game is released.
Screenshots
Sugar Rush Screenshots
Coming Soon… After the game is released.
Videos
Sugar Rush Videos
Coming Soon… After the game is released.
Links
Sugar Rush Links
System Requirements
Sugar Rush System Requirements
Minimum Requirements:
OS: Windows XP / Vista / 2000 / 98 / ME
CPU: 750 MHz Intel Pentium 3 or better
RAM: 256 MB
HDD: ~1GB Free
Graphics Card: Any 3D acceleration card
Recommended Specifications:
OS: Windows XP / Vista / 2000 / 98 / ME
CPU: 1.5 GHz Intel Pentium 4 or better
RAM: 512 MB
HDD: ~1GB Free
Graphics Card: Any 3D acceleration card