Overview
Spiral Knights Overview
Spiral Knights is an MMO that looks very interesting. As a co-op dungeon crawler, Spiral Knights offers fast paced gameplay through carried environments. The game will be stage based and players will be able to chose from various character types, customizing them as they go along. Not much is known about the game and the official site only offers some flavor text about the story. The teaser video released shows exciting gamepay and a graphic style that resembles the cartoony Zelda games popular on the Nintendo DS and GameCube, particularly the Zelda Four Swords series.
Spiral Knights Screenshots
Spiral Knights Featured Video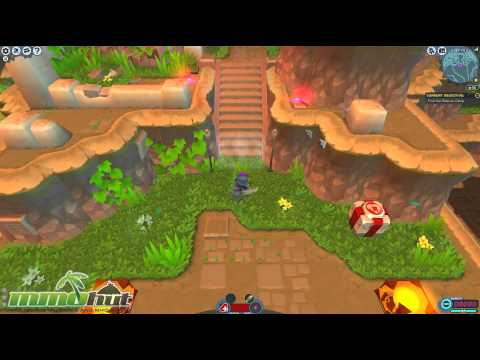 Full Review
Spiral Knights Review
By, Jaime Skelton
Spiral Knights Review
Many games start with you crash landing on an unfamiliar planet, needing the help of new friends to survive. The struggle to exist in an unfamiliar land is a common trope in video games. Spiral Knights, developed by Three Rings (makers of Puzzle Pirates) and published by Sega, manages to pull it off with cute wit and style. Graphically similar to games such as Zodiac Online and Fairyland Online, Spiral Knights brings forth some interesting, unique game-play mechanics. These features set Spiral Knights above and beyond similar top-down MMORPGs.
Keep It Simple; Jump Right In!
Character creation may make the game seem fairly limited. There are only three helmet, three armor and five color schemes to choose from. There is no gender selection – one helmet does make you "female" by adding pigtail looking tufts. Outside of choosing a personal color and your name, that's all you're given. There are neither classes nor races to choose from in Spiral Knights. In fact, your character is defined solely by the equipment you use.
Once you've created a character, you'll find yourself near a crashed escape pod. The first few areas of the game teach you how to move, attack, change weapons, pick up objects, and how to handle certain enemy types. The controls are very simple to learn and understand. The game can be played with the mouse alone, as movement and combat are controlled with the left and right mouse buttons  respectively, in the direction the cursor faces.
Into the Mist
The user interface itself is clean and out of the way. The upper left contains various game menus, including the main menu, the social menu and the uplink menu (the game's mail system). The top right hosts your mini-map, and also includes your character information, equipment arsenal, and crowns, the in-game currency. The bottom left houses the chat pane.
At the bottom right of the screen, your energy is shown. There are two types of energy in Spiral Knights: Mist and Crystal energy. Mist energy is the standard energy bar, while Crystal energy is additional energy purchased through the cash shop. You start with a maximum of 100 Mist energy. Adventuring in the Clockworks uses Mist energy to go down floors, use gates, activate friendly NPCs, and more. Once at zero energy, you'll be unable to advance, and must wait for your energy to replenish. It takes about 15 minutes to recharge one unit of energy, so expect to wait around 24 hours for energy to fully recharge.
Going Spelunking
After the tutorial quests that deliver you to Haven, the game's hub, Spiral Knights becomes open- ended. This can be a jarring experience. Your gameplay goal is to reach the core of the planet by getting to the deepest level (called stratum). Going deeper into the dungeon involves activating gates, which is done using minerals found while exploring, plus a small crown cost to access later strata. The minerals you use along with the time of day determines the stratum's theme, or the types of monsters you'll find. This system ensures gameplay varies from day to day.
Spiral Knights does require some social interaction. By default, entering the Clockworks will partner you with up to three other players. There are options for solo play, however, there are several advantages to traveling with other Knights. Minerals, Heat and crowns are all equally shared, not divided, across the party. There is also strategic value to multiple players in combat.
Experience – How It Work?
Spiral Knights does not feature a traditional character progression system. Characters do not level up; instead, a character's equipment gains experience, called Heat. Each piece of equipment can gain up to ten levels through gathering Heat. The game includes swords, guns, bombs, armor, helmets, and shields. Some pieces of equipment can be upgraded to the next tier once they are level ten, using crafting components found in the dungeons. There are also trinkets to equip, with various stats and abilities, though these do not grow in level. Leveling is on a curve; early levels are easier to gain, while later levels require higher amounts of Heat. However, it's never terribly daunting to get a piece of equipment to level ten, and unlike other MMOs, there is no risk of your equipment breaking through upgrades.
As you explore, you'll find crafting materials in addition to minerals. These materials can be used to create new equipment or upgrade existing pieces. Vendors sell random recipes throughout the day, and it can sometimes be difficult to obtain the recipe you need. The interface is fairly straightforward and intuitive, making it easy to make what you need and move on. It's made easier due to Alchemy Machines being found almost everywhere.
Friends and (future) Foes
Players can join guilds, which are a great way to gather groups for various adventures. In addition to their own special chat channel, guilds have the benefit of a guild hall, where guild members can craft and socialize. It takes 500 energy and 1000 crowns to start a guild, so some purchase of Crystal energy will be required.
PvP is currently disabled; however, there are plans to reintroduce it in the future – there is no known ETA when this will be. Battles will be four person free-for-all arenas with four tiers of combat. Each tier places various restrictions on equipment, except the top tier where anything goes. Each tier also will have progressively higher crowns cost to participate.
Final Verdict: Great
Spiral Knights is a whimsical, fun adventure into the unknown depths of a planet. The simple combat system, coupled with a vast array of equipment, is engaging enough to bring players back. The major downside of the game is the lack of in-game information, although the publisher maintains a wikia page. With the unique way dungeons are created with random elements ensures no two adventures are quite the same. With a positive grouping experience and friendly atmosphere, Spiral Knights offers a casual, drama-free gaming experience. Even hardcore gamers will find plenty of things they can do.
Screenshots
Spiral Knights Screenshots
Videos
Spiral Knights Videos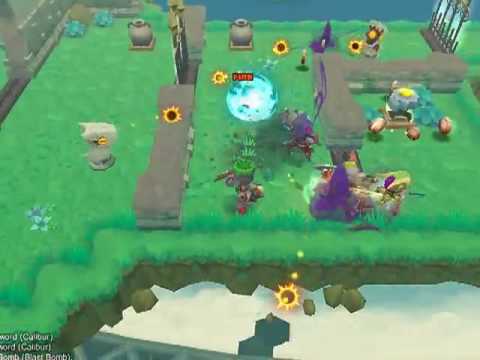 Links
Spiral Knights Links
System Requirements
Spiral Knights System Requirements
Windows & Linux
Windows XP, Vista or 7
Java 1.5
Display 1024×600
1.3 GHz processor
Graphics: 64mb Video Memory. GeForce 5 series, ATI Radeon 8500. Latest video driver.
Memory: 512mb for Windows XP or 1gb for Windows Vista/7
300MB Hard drive space
Mac
OSX 10.4
Java 1.5
Display 1024×600
1.3 GHz processor
Graphics: 64MB Video Memory. GeForce 5 series, ATI 8500. Latest video driver.
1GB memory (1000MB)
300MB hard drive space