UPDATE: This game has been shutdown and is no longer available
Rusty Hearts is a 3D action MMORPG with fast paced gameplay. It will feature brawler style game modes including cooperative dungeons to clear, and competitive arena options. Players will be able to chose from four unique characters, customize personal rooms, and craft equipment!
Publisher: Perfect World Entertainment
Playerbase: Medium
Graphics: Medium
Type: MMORPG
EXP Rate: Low
PvP: Arena / Guild Battles / Tournaments
Filesize: ~6000 MB
Pros: +Stylish graphics. +Gamepad support. +Various PvP modes. +Cooperative gameplay. +Instanced personal rooms to decorate.
Cons: -Limited persistent world environments. -Lack of customization. -Linear and repetitive gameplay.
Overview
Rusty Hearts Overview
Rusty Hearts is a 3D brawler MMORPG with action oriented gameplay, and anime inspired graphics. The free to play game is developed by Stairway Games and is being brought to the US by Perfect World Entertainment and WindySoft. Players can expect fast-paced gameplay, instanced dungeons and raids that require cooperation, and a variety of PvP modes. Unlike Dungeon Fighter Online, or Fists of Fu, Rusty Hearts has 3D environments which allow for a wider range of action. The art is anime inspired, but highly stylish which helps the game stand out. Rusty Hearts is accepting closed beta applicants on the official site so be sure to sign up!
Rusty Hearts Screenshots
Rusty Hearts Featured Video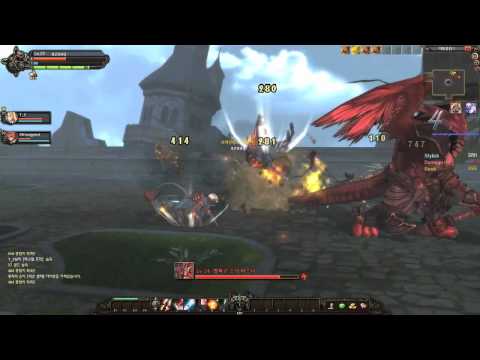 Full Review
Rusty Hearts Review
What's button-mashing, enemy-smashing, and goth all over? The answer is Perfect World Entertainment's new 3D brawler, Rusty Hearts. Developed by WindySoft, who also developed MegaTen, Rusty Hearts is a flexible brawler with some similarities to games like Dungeon Fighter Online and Divine Souls. Is the story of four anti-heroes battling against the darkness enough to crumble the iron around players' hearts?
Choose Your Darkness
In starting Rusty Hearts, you must choose between one of four characters: Frantz, Tude, Angela, or Natasha (the last of which is not available in closed beta, but should be available soon for all players). Each character has their own moveset, and is specialized in a different type of armor (Cloth, Leather, Chain, or Plate) as well as two types of weapons. Frantz and Tude are strong melee characters, using swords and axes or gloves and claws respectively. Angela is a hybrid character with slow melee attacks but strong magic, and Natasha is a gunner. While you cannot customize these characters, you are given several character slots per each character, letting you create several of your favorite to try different specializations or play with friends.
Combo Breaker
Rusty Hearts is an action MMO in the "brawler" style, which means combat is real-time and requires constant input and positioning from the player. Basic movement is bound to the arrow keys (although you can also click to move in town), while basic combat is bound to Z (block), X (attack or counter-attack), and C (grab). Additional skills, learned by each character, can be bound to the A through H keys on the middle row of the keyboard, with consumables to the number keys and a few extra skills bound to F1-F4.
In combat, these controls are easy. But the out of town controls, particularly interacting with NPCs and accessing the menus, are confusing at their default settings. Many hotkeys are not what are generally expected; for example, L is character information, B is to access the PvP arena, and quests are bound to Y. Movement is also difficult as the camera angle must be changed manually (it's automatic in dungeons) and direction keys change the character's direction as the camera angle moves. The one saving grace is that a controller can be hooked up to the game, making controls and wear on your keyboard a little easier.
Dungeon by Dungeon
Rusty Hearts has a fairly linear progression in which players take quests in town, and then venture alone or in a party into a dungeon. Each dungeon entrance plays host to several sub-sections, each which is then broken down into a series of rooms with the last offering a final boss and a chance at extra treasure. Each dungeon also has multiple difficulty modes which offer better rewards, but are also required for many quests.
Progressing through each dungeon simply requires moving from room to room and killing all the enemies as you go. On harder difficulties, some of these enemies are tougher or have more challenging skills to face. A player's rank through the dungeon is based on their style points (attacks and skill use) compared to the number of hits they take and the length of their combos. All enemies have a chance of dropping loot as well, including cards. Cards offer a chance at special loot and equipment on a random draw at the end of the dungeon. After collecting loot, players can then go to another dungeon, visit a dungeon store to sell, or return to town; be warned, a party leader has full jurisdiction over where their party goes.
Time for Tea
If the dungeon grind gets boring (some quests ask you to kill hundreds of enemies, for instance) there are other options to consume your time. The game offers a crafting system, although crafting is in the hands of NPCs who simply ask you to bring ingredients. This crafting system allows for some unique gear, however, including costumes. It also allows players to cook food and create potions for use inside dungeons. Ingredients are dropped from enemies or destroyable objects in dungeons, or dismantled from gear at the blacksmith.
Don't Forget the PvP
Rusty Hearts also offers a PvP arena for its players, where winning can earn players points to spend on special gear. The arena offers both solo and team play of several match types: deathmatch, survival, tag team (a series of one-on-one matches with two teams), and VIP (where one chosen's player death means the end of the match). These matches take place in a small arena where players must focus on the right use of skills – including support, healing, and aerial juggling – to come out as victors. Unfortunately, each classes' special strengths and weaknesses have seemed initially hard to balance in PvP, leaving some characters champions in the arena.
Final Verdict: Good
A gothic setting lightened with incidental humor, plus a solid and enjoyable combat system, make Rusty Hearts truly fun to play. While most brawlers stay 2D in their side-scrolling, 3D in Rusty Hearts  adds a figurative new dimension to combat that allows for more strategic positioning, grouping, and skill use during battle. Unfortunately, the game also has some flaws: repetitive and linear gameplay, annoying town controls, and a stamina system (Stamina system has been removed) among them.  That the game also ventures to offer crafting and, eventually, a pet system, along with a PvP arena, shows that Rusty Hearts has a lot of potential to move from good to great.
Screenshots
Rusty Hearts Screenshots
Links
Rusty Hearts Links
Shut down.
System Requirements
Rusty Hearts Requirements
(estimates)
Minimum Requirements:
OS: Windows XP / Vista
CPU: Intel Pentium 4 3000 MHz / AMD Athlon 64 3000+
RAM:  2 GB
HDD: 2 GB Free
Graphics Card: GeForce 7600 / ATI Radeon Х1600
Recommended Specification:
OS: Windows XP / Vista / 7
CPU: Intel Core 2 Duo 3000 MHz  / AMD Athlon 64 6400+ or better
RAM: 4 GB or more
HDD: 4 GB or more
Graphics Card: GeForce 8800 / ATI Radeon HD 4700 or better
Rusty Hearts Articles
Rusty Hearts Shutting Down -

Posted on July 31, 2014


Perfect World Entertainment has announced that it will be shutting down service for Rusty Hearts on September 15, 2014.