UPDATE: This game has been shutdown and is no longer available
Faxion Online is a 3D fantasy MMORPG with combat driven gameplay and a heavy emphasis on PvP. Fight on the side of Heaven or Hell in the epic struggle between Good and Evil. Faxion Online has multiple methods of progression and promises to reward player skill rather than grinding.
Publisher: UTV True Games
Playerbase: Low
Graphics: Medium Quality
Type: MMORPG
EXP Rate: Medium
PvP: Battlegrounds / Duels
Filesize: 1.4 GB
Pros: +Competitive PvP system. +Fight for control of territory. +Action oriented gameplay. +Multi-classing. +Unique environments.
Cons: -Combat feels a bit slow paced.
UPDATE: This game has been shutdown and is no longer available
Overview
Faxion Online Overview
Faxion Online pits the armies of Heaven and Hell against each other for control over Limbo, the territory that exists between them. Players will be able to join the side of Good or Evil in the struggle for control over various regions, each named after one of the seven deadly sins. Faxion Online promises action driven combat, and a heavy emphasis on PvP. The production team includes people who worked on Ultima Online and Shadowbane so expectations are high. Faxion is being developed as a full feature MMORPG, so expect ample PvE content, an expansive backstory and lore, and a wide range of environments to explore and monsters to slay. The game hopes to use a novel progression system which moves away from the typical grind based 'stand and fight' model. Offline advancement and multi-classing will help ensure the most skilled player comes out ahead, not the one that put in the most time.
Faxion Online Screenshots
Faxion Online Featured Video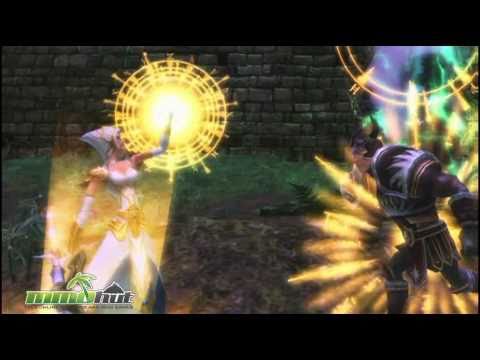 Full Review
Faxion Online Review
By Ange Perdu
Faxion Online is a 3D fantasy themed MMORPG set in the hereafter. Heroes choose their own fate in this game. Fight for the forces of Heaven or Hell in the eternal battle between Good and Evil. Explore the various realms of Limbo based on the seven deadly sins. Slay thousands of grotesque monsters and participate in challenging PvP combat as players struggle for territorial control. Earn a pair of wings for convenient commuting. Use magical spells and an arsenal of blessed or cursed weapons to destroy enemies. Only the worthy will prevail. In this life after death adventure players can introduce others to salvation or a world of pain and misery.
Heaven or Hell, the Gameplay
Most of the gameplay in Faxion Online involves completing quests and fighting others in random PvP brawls. Players start out in a celestial Heaven or a fire and brimstone infused Hell for a brief tutorial. Once completed all heroes regardless of their faction must enter Purgatory. NPCs also referred to as quest givers are stationed throughout the zone assigning various missions to willing heroes. These assignments vary from traditional RPG tasks to a few innovative quests that follow the cinematic storyline. Kill heretic charlatans, collect orbs of essence, gather wand components, deliver important packages to distant NPCs, or find Nero the Red Bat and bow down to worship him. Many of the retrieval missions require players to slay monsters. Kill ferocious hounds, giant ogres, zombies, and derelicts. As heroes travels further in the realms of Limbo they'll encounter more challenging beasts to battle. A quick double click initiates a fight. Players can perform different martial skills or spells using their hotkey bar. During combat creatures are able to call for reinforcements summoning swarms to assist in the attack. Slaying monsters and accomplishing quests will earn XP along with gold. Occasionally players receive rare equipment or large loots. Much like Ultima Online the game's world is massive. It can take hours to trek back and forth to NPCs in faraway regions. Movement in the game is also bit tedious. There's no auto-walk so players have to run manually using the designated WASD keys until they level up enough to acquire wings.
Ganked Beyond Purgatory
The entire game is a PvP free-for-all beyond the gates of Purgatory. There are no level restrictions. Any player can go on a random killing spree or repeatedly gank others for fun. Fight heavenly crusaders or wicked occultists using a variety of skills. Each hero has a book of abilities enabling them to train in several distinct categories to increase the power of each move. The training process is somewhat time consuming but well worth it since Faxion has a visceral combat system. During PvP battles certain skills like the Miasma delivers a wave of energy to send an opponent into a state of confusion. Instead of stumbling a few steps the victim's screen flips upside down making it difficult to recover. As players advance they can spend points on class specific spells and slowly move up their character's skill tree to more devastating maneuvers. Master the Soul Leech, Death Blossom, Vanish, Shockwave, Torment, Ignite, Exorcise, and the Final Judgment. Each skill has its own unique animation as well. Blast fireballs, excrete a cloud of poison, or summon chaotic flames to consume foes.
The Infamous Bible Thumper
One of the best features in Faxion Online is the wide selection of weaponry. The game maintains its theme of Good versus Evil with unusual yet very cool renditions of traditional artillery. Every item is either blessed or cursed depending on the faction.
Equip heroes with the Death Staff of Faith, the mighty Severance, Head-Cleaver or Scythe of Striking, Smasher of Fortitude, Barbed Pike, Ancient Staff of Knowledge, Spear of Longinus, Myrddin's Great staff, Ripsaw, Great Hammer, Gnarled Staff of Faith, Halberd, Ball Mace, Dungeon Master, Broadsword, Cranium Crusher, Graven Bone, First of David, Surgeon's Edge, and the Witch's Blade. There's plenty to choose from similar to Gates of Andaron. My personal favorite is the Bible Thumper. It's a staff with a scrunched up bible attached at the tip that players can use to smack others around. The small doses of humor and originality of the weapons adds to its appeal. Most of the arms are available for in-game gold at the vendor shops.
Demon Wings & More
There are regular vendors and token based shops in the world of Limbo. Both feature a large assortment of items available depending on a character's stats and level. Common vendors carry standard armor in the form of pauldrons, sleeves, gloves, helmets, belts, leggings, and boots. Food, potions, and jewelry are also sold. Players can buy the Golden Apple to boost strength and aid in health regeneration or Freshly Baked Devils Food Cake to improve the body and focus while enhancing health. Simple drinks like Cider provide spirit rejuvenation while advanced concoctions such as the Immaculate Ambrosia increases intelligence, wisdom, and spirit stats. Female characters can purchase the Bead Choker of Strength, Talisman of Holy Resistance, or Gemstone Ring of Wisdom from shops as well. Token vendors sell specialty items that cost hard to attain tokens. Most players will have to spend actual money to get enough of them to buy equipment. It's almost worth it. There are some really cool items like the Scroll of Superior Insight, Herald Shield of Endurance, Zweihand of Striking, Dread Knight's Armor, and Shoftrel's Raiment. Buy angelic or demonic wings that enable heroes to glide instead of manually walking to destination once they reach level 20. They come in pink, black, white, or red. Faxion Online also features colored bunny costumes. Although it's a bit weird for demons or angels to be walking around with brightly colored bunny ears attached to their head it's an option.
Final Verdict: Good
Faxion Online is a solid fantasy MMORPG that's downright addictive. Players are transported into a surprisingly realistic-looking afterlife where a war is raging between two dominions. Fight for the guardians of everything righteous or sinister demons. Slay hordes of heinous creatures, battle others, and tackle hundreds of quests. Choose from a large assortment of weapons or master spells. Comparable to Ultima Online or Shadowbane heroes have a massive world to explore. The combination of the seven deadly sins, Heaven, Hell, and dark humor makes this game thoroughly entertaining. Although the competitive PvP combat may not be for everyone players that enjoy torturing others will relish in their hellion ambushes. The unique gameplay and skill progression makes this title definitely worth checking out.
Screenshots
Faxion Online Screenshots
Links
Faxion Online Links
System Requirements
Faxion Online Requirements
Minimum Requirements:
OS: Windows XP / Vista / 7
CPU: Intel Pentium 4 2.0 Ghz
RAM: 2 GB
HDD: ~2.5 GB Free
Graphics Card: GeForce 6600 (512 MB)
Recommended Specifications:
OS: Windows Vista / 7
CPU: Intel Pentium 4 2.4 Ghz or better
RAM: 3 GB
HDD: ~2.5 GB Free
Graphics Card: GeForce 7900 or better (1 GB)