Overview
DC Universe Online Overview
DC Universe Online is a 3D superhero MMORPG that its players in the world of DC Comics. Fight alongside Superman, Batman and others to defeat crime and evil, or join up with The Joker and Lex Luthor to bring havoc and destruction. Players can choose their superpower and weapon styles from several options, engaging in dynamic combat using both.
Metropolis and Gotham City await the next hero to save them, and dread the next villain to conquer them! In DC Universe Online, that could be you.
DC Universe Online Screenshots
DC Universe Online Featured Video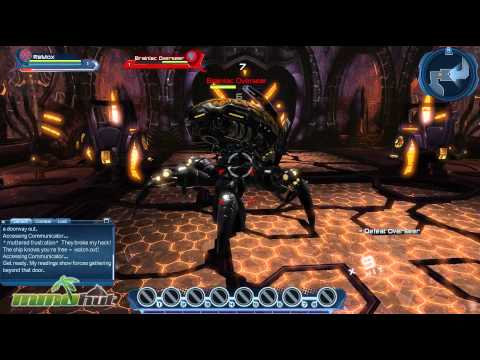 Full Review
DC Universe Online Full Review
Few games can offer the opportunity to fight alongside legendary comic book characters like Superman, Batman and Wonder Woman.  DC Universe Online, published by Sony Online Entertainment, promises that opportunity and delivers.  From humble beginnings to becoming a superhero (or supervillain), DC Universe Online grants a unique story in familiar comic book locations like Metropolis and Gotham City.  Does the game offer the same immersion that games like City of Heroes and Champions Online do, though, or will it quickly fall "out-of-print?"
Heroes are Made, not Born
Most superhero games offer a massive amount of character creation options to help players create a character that looks exactly how they imagine; DC Universe Online is no different.  You first choose your gender, then your body type.  You are then offered a choice of fully customizing the character yourself, or selecting a famous hero or villain to inspire your character's powers and looks.  The latter option is designed to get players in game quickly.
If you choose to customize your character, you must next choose to become a hero or a villain.  This  selection determines what missions you receive and your opponents in PvP scenarios.  The next selection is personality, which determines your character's stance, and is purely aesthetic. Following this, you select a mentor: Batman, Superman, or Wonder Woman for heroes, and The Joker, Lex Luthor, or Circe for villains. Your mentor selection changes your starting location and the missions you receive.
Finally, you can select your character's super-power from six major powers, each of which has multiple roles; you also choose between flight, acrobatics, or super-speed, which are high-speed movement abilities (like mounts in other games). Next up is choosing your weapon, each of which has a specific style, range, and speed. Once you've been through this gargantuan list of options, you can spend hours fiddling with your character's costume to create a one of a kind hero or villain.
How It Happened
Once you've created a character, you'll be treated to a cinematic, and then be dropped into a mandatory tutorial stage. You're immediately given instructions on how to move, how to fight, how to defend, and then how to use your movement powers. The ultimate goal of the tutorial is to get you acclimated with the game, and it does this job well.  You're also treated to your first multi-stage boss fight. The tutorial also gives you starting equipment as you complete objectives.
I Can Fly?  I Can Fly!
DC Universe Online was developed for the PC and the PS3, and gameplay feels more adapted to a controller. For PC users, skills and items are used with the number keys, however, interacting with objects and NPCs requires more than a simple mouse click. Instead, interacting with the world requires holding the 'E' key, since melee attacks are bound to left click, and ranged attacks are bound to right. While interacting eventually becomes easier, having to hold the key instead of tapping it once is immediately awkward.  Otherwise, the remaining game controls are intuitive and easy to remember.
Using Your Powers Wisely (or not …)
Combat in DC Universe Online is fast-paced and action-oriented.  Each attack requires you to click, which can be strenuous. Super powers and items are assigned to your action bar, and can be activated by simply pressing the corresponding number key. However, weapon skills are activated through a combination of specific mouse clicks, such as left click followed by holding the left mouse button down. If you forget how to use certain weapon skills, you can revisit your skill page to refresh your memory on how to execute them.
As an action MMO, combat is fluid rather than stationary. You're free to move around the battlefield at will, and can even utilize your movement abilities in combat.  Some enemy attacks are best blocked or dodged; counter attacks can also be used in your defense. Targeting is based on your facing, although you can also use tab to lock-on to a specific enemy.
The Costumer's Dilemma
One major draw to DC Universe Online is the visual customization after you've created the character.  Each piece of equipment you receive and equip shows up on your character.  Once you've earned a piece of equipment, however, you can use it at any point later in the game as a cosmetic style.  You can also learn other weapon styles, which allow you to swap for different battle circumstances.
Each super power also has two different lines of specialization; for example, you may have the option between crowd control and damage.  Abilities synergize with each other, and also act differently depending on your role.  For example, an ability that roots an enemy might draw them to you while in a tank role, but deal damage over time instead when in a DPS role.
Heroes and Villains, Clash!
Not surprisingly, DC Universe Online also offers a PvP experience.  Legends PvP allows players to take the role of one of the legendary superheroes or villains and battle opposing forces.  This is a primer for actual character PvP, where you take your character into battleground-style matches against other players for a chance at special PvP rewards. PvP servers are also available, in which the world offers a full, open world PvP experience.
Time To Save The Worl-ooh, shiny!
In addition to your standard PvE and PvP options, DC Universe Online also offers a host of other activities to take part in. Races, which depend on your character's movement ability, challenge you to race against the clock to earn medals, achievement points, and sometimes items. These races get progressively harder, and challenge you to learn how to use your movement abilities in unique ways. The game also offers a three-part collection system, in which you find special tokens hidden around the world for a chance at special style tokens. Other little perks are tucked into the gameplay, such as Headlines, brief movie clips rewarded to you after defeating specific bosses.
Final Verdict:  Great
DC Universe Online does something unique: instead of generic heroes and villains, you're put into the fray with established icons in the DC Comics universe.  While the controls take time to adjust to, combat remains enjoyable and exhilarating.  Character development extends beyond character creation, into costume, skills, and abilities, fitting well into the comic-book genre. PvP is currently the game's major stutter, and will be disappointing to players looking for a competitive experience.  DC Universe Online is worth checking out if you ever had a desire to use imaginative powers while sprinting about in skin-tight spandex.
Screenshots
DC Universe Online Screenshots
Links
DC Universe Online Links
DC Universe Online Articles