Toy Attack Launches with Programmable Multiplayer Mayhem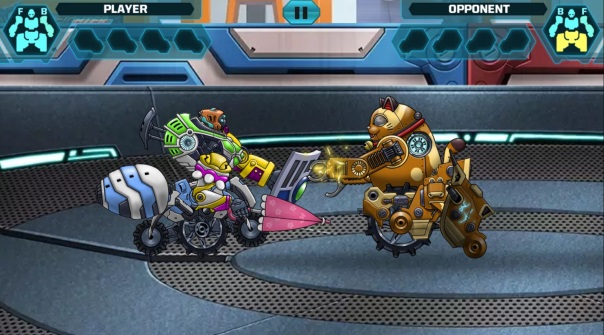 Toy Attack is the new mobile game from Animoca Brands the mobile game that lets you build and program an adorable combat robot to challenge the robots of your friends and other players.  The game includes a combat A.I. programming system that introduces principles of coding and is suitable for any ability level which is a boon for anyone who is interested in learning to program in a fun environment. Toy Attack is a multiplayer, physics-based, spectator robot combat mobile game in which players assemble and configure a cute and cuddly mechanical gladiator. Players must mix and match various robot components and weaponry, then tweak and tune their machine creations to challenge other players in asynchronous duels and tournaments.
Players do not control their robots directly during combat. Success in Toy Attack is determined by building and tuning a robot, including programming its artificial intelligence (A.I.) before battle. The game includes an innovative block-based programming system to define the robot's responses to various situations. For example, the player can program the robot to attempt to block attacks against a specific body part if that body part exceeds a user-defined amount of damage. The game is available globally for iPhone and Android devices and is not to be missed!
Robby Yung, the CEO of Animoca Brands, commented: "Toy Attack introduces principles of coding by letting you program a cute combat robot's behaviour using a block-based coding language. Like real-world programming, Toy Attack offers an iterative experience in which you program a robot based on different variables and experimentation. Knowing how to code is becoming nearly as important as reading and writing, so we are proud to offer an engaging game that will familiarize anyone with this important skillset."
Now anyone who knows me well knows that I like my women on the foxy side of the spectrum.
by DizzyPW
Trion Worlds has officially announced the dates for their upcoming closed beta test for Defiance 2050, the open-world sci-fi shooter.
by Ragachak
The new update (Version 1.5.0) dubbed Soul Seeker: War of the Gods will add a second Raid Boss to the game.
by MissyS