Lineage 2: Revolution Introduces Agathion System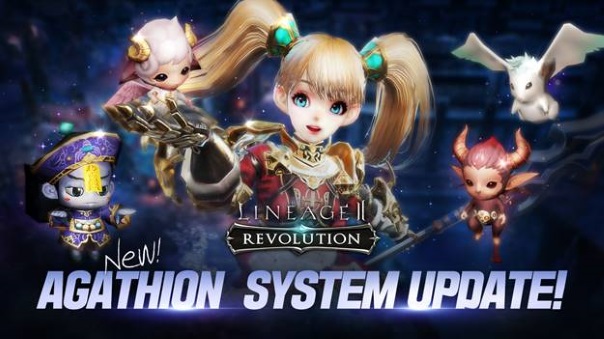 A major update is hitting Lineage 2: Revolution which introduces new pet companions called "Agathions" for in-game heroes. This new Agathion System lets players equip these pets, alongside mounts and summons. Unlocked at level 15, these Agathions do not participate in combat, but they do have substats to help increase the power of heroes. Agathion substats range from P. Atk. / M. Atk., Max HP/MP, Penetrate, Resilient, Crit. Rate, Critical Resistance, Accuracy, and Evasion, which can all be obtained from most equipment and soul crystals. The main difference is that Agathions have a set substat, so players cannot adjust these values, but can only increase and strengthen their Grade. For strengthening Agathion substats, players will use the Agathion Menu's Strengthening tab for a cost of 30,000 Adena or 300 Red Diamonds to increase the selected substat.
Grade Strengthening can only happen when the Agathion Soul's Grade is higher than the Agathion players already own. The lower grade Agathion can be overwritten with a higher grade, while the existing lower grade will be returned as Agathion Souls to be used in Agathion combination. They are sealed by grade and can be summoned by collecting Agathion Souls, which can be acquired in the Scarlet Libra Shop and the Bundle Shop. The following Agathions are available:
Little Demon
Little Angel
Royal Hamstar
Jiangshi
In addition to this new system, a new Field Boss has arrived, named Marlox. They will summon Demon Totems, which need to be destroyed. Failing to destroy three of them within the time limit will cause a powerful AoE attack to occur, called "Demon's Sword Aura". A new territory named Schuttgart will also be available to explore. The territory includes the Northern Immortal Plateau, Schuttgart Snow Field and Spine Mining Zone, as well as new Main Quests, Runes and monsters for players to explore.
Players will get a bit of help in taking on these new challenges, as the max level will be expanded from Lv. 320 to Lv. 360. For current players at Lv. 320, this will challenge them to reach the max level again. In addition, after reaching Lv. 360, players may accrue Exp. up to Lv. 370 and also increase Skill Levels.
Nordic Games has announced its collaboration with Cliffhanger Productions to release the upcoming Shadowrun Online team tactical RPG. Shadowru...
by Mikedot