King's Raid News – Pre-Registration Now Available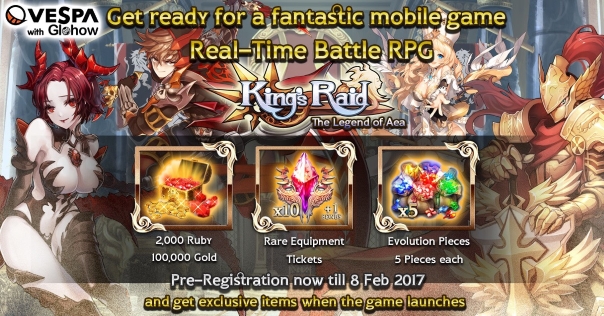 Developer Vespa and publisher Glo-how announce that their new action RPG game for mobile, King's Raid, is now available for pre-registration.
The pre-registration package includes a collection of Awakening fragments, an equipment package ticket, 2,000 Rubies, and 100,000 gold.
King's Raid is the story of a knight-in-training named Kyle, who seeks to uncover the mystery of his disappeared brother. Players can assemble a team of four heroes from seven classes: Warrior, Knight, Archer, Wizard, Priest, Assassin, and Mechanic. Each has unique abilities, along with gear that can be enhanced and awakened to grow stronger as the journey progresses.
The game features multiplayer raids, real-time Arena PvP, guilds, group buffs, and much more. You can register today for the starter package, worth over $40 USD.
Digital Extremes announces the release of update 11.5 for Warframe on PlayStation 4.
by MissyS
Florid prose aside, both stories are true. At my last check, Frostgorge Sound is truly won by the heroes. Specifically everything is dead.
by DizzyPW