John Schappert's Shiver Entertainment reveals New RTS Beasts vs. Bots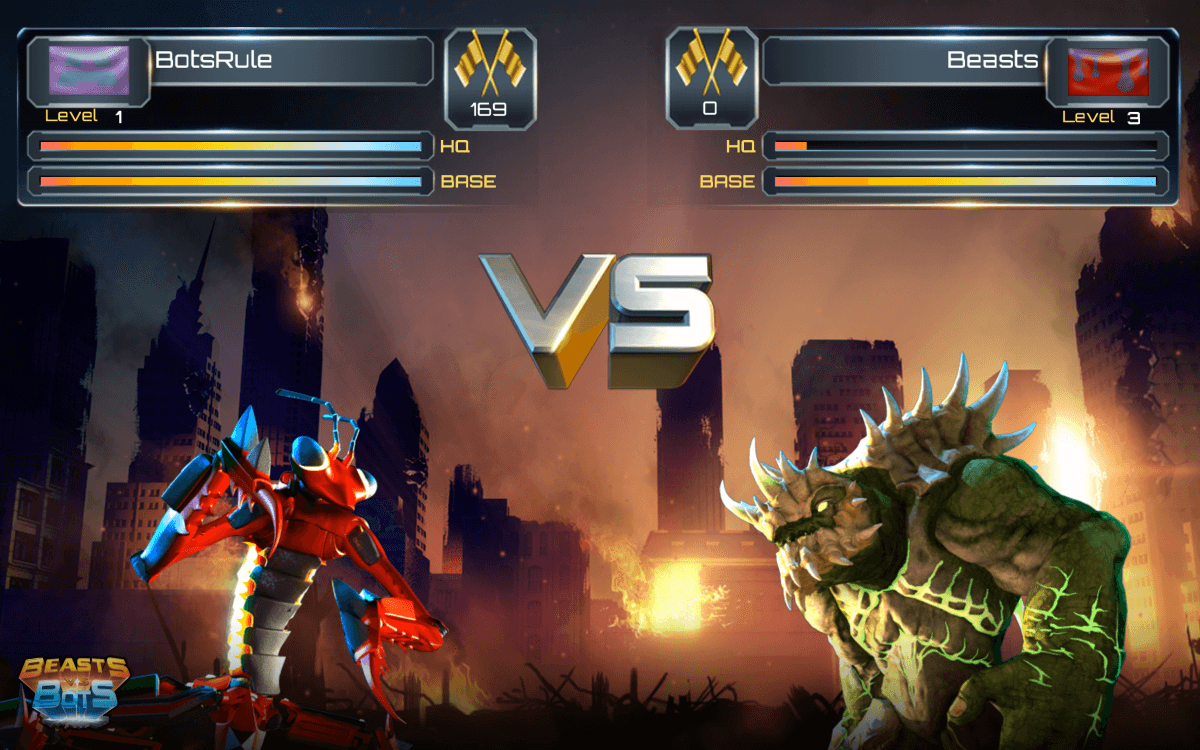 Shiver Entertainment and Nexon M have revealed their next mobile title, Beasts vs Bots, a fast-paced real-time strategy game tailored for touch control on mobile phones and tablets. Players go head-to-head in live synchronous battles using intuitive touch and gesture controls to command huge armies in their quest to destroy their opponent's base, while laying waste to city buildings standing in their way. Beasts vs Bots will be available on the App Store for iPhone and iPad and on Google Play for Android devices in 2015.

"Beasts vs Bots brings real-time strategy gaming to mobile. It features all of the mechanics you love from full-featured core PC RTS games: base building, strategic combat, individual troop control, and real-time PvP with back-to-back battles," said John Schappert, CEO and co-founder, Shiver Entertainment. "Gamers have been yearning for real-time battles on mobile and Beasts vs Bots delivers—from innovative touch controls to five-minute battles to an expansive and rewarding base-building experience with your chosen faction."

In Beasts vs Bots, players take control of an invading race of alien robots looking to consume the Earth and its valuable resources or a species of ancient beasts awakened to defend their home world. In each battle, players, in real-time, must collect resources, create troops, and strategically command their armies across the battlefield to destroy their opponent's base. Players can jump right into battle—without waiting for troops—where they must compete to destroy the city buildings that provide resources for creating troops in battle. Players can choose to select and move individual troops, groups of troops, or all troops of a certain type, just as they would in a traditional RTS game. Outside of PvP matches, players prepare for battle by building out their base with additional offensive and defensive buildings, as well as upgrading their troops.

"John Schappert and his team at Shiver are pioneering the mobile real-time strategy genre," said John Robinson, General Manager, Nexon M. "Beasts vs Bots brings amazing technology to mobile. Experienced RTS fans will love its intuitive control scheme with on-the-fly resource management and troop creation, while first-time RTS players will enjoy an unparalleled fast, strategic, head-to-head mobile experience."

To learn more about Shiver Entertainment's new title Beasts vs Bots, please visit www.beastsvsbots.com.
Batterystaple and Firehose Games are happy to announce Tuesday, September 15th 20XX is leaving alpha on Steam early access and headed to beta.
by MissyS
The Red Solstice, from Croatian developer Ironward, will be hitting Steam Early Access on July 10. The game is a tactical, co-operative surviv...
by Mikedot
ZQGame today announced that its mythology themed browser game, The Lost Titans, is entering its open beta phase.
by MissyS