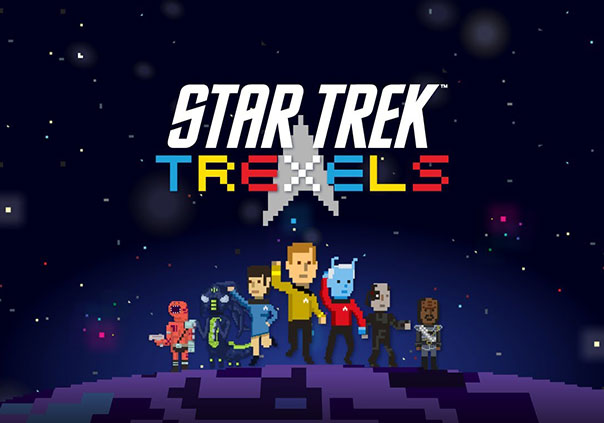 Star Trek Trexels is a free-to-play 2D strategy game developed by YesGnome for iOS and Android. In Star Trek Trexels a temporal rift has been opened and the USS Valiant has been completely obliterated by an unknown attacker. You have been chosen to continue its mission in a mysterious area of the galaxy called the Trexelian Expanse.
Throughout the game players will encounter tons of familiar characters and locations from Star Trek: The Original Series and Star Trek: The Next Generation, as well as completely new aliens, crew members, and planets to experience. On top of it all George Takei lent the game his voice has taken part as a narrator and original music from the series has been included to lend even more authenticity.
Ship management will be of utmost importance to your success as a captain, meaning you'll have to do more than just pilot your ship in the frontier. Different rooms will need to be built to provide resources, man-power and more. After all, a ship that can sustain itself certainly can't hope to take on some of the fiercest forces in space!
Skirmishes will also become part of your daily life as a spaceship captain. In skirmishes you will be able to set up your own fleet of Romulan, Klingon, and Federation ships and lead them in battles against AI-opponents or other players in PvP battles. In battle you'll use a pre-formed deck of cards that has been spread across your fleet to draw from and use. Some cards will even let you equip ships with officers, but make sure that you defend your existing ships at all costs. If your ship gets taken down, you'll lose the cards that the ship is carrying and no longer be able to use them in that battle!
Assemble your crew, build your ship, find out what happened to the USS Valiant and realize your destiny as the best spaceship captain around in Star Trek Trexels.
Status: Released
Release Date: Feb 15, 2014
Business Model: Free to Play
Developer: YesGnome
Publisher: YesGnome
Category:

Mobile

Genre(s):

2D, Sci-Fi, Strategy

Platforms:

iOS, Android


Editor's Score: 5/5

Pros:

+Diverse things to do.
+Great representation of the Star Trek universe.
+Paying through in-game store not necessary.

Cons:

-Needs more basic tutorials.
-No explanation of ship skirmishes.
-Huge data usage.



Recommended System Requirements:

OS: iOS 6.0 / Android 4.0 or later
HDD: 424 MB



Description: Star Trek Trexels is a free-to-play 2D strategy game where players can become a spaceship captain and explore the Trexelian Expanse. Everything from managing your ship's resources to leading your fleet in battles against other players will be at your fingertips.
Rock Hippo Productions Ltd. announced today the launch of its latest update – Clockwork Wings – for their popular free-to-play cartoon-sty...
by MissyS
On December 13, Webzen will officially launch Arctic Combat for North America and Europe.
by MissyS
Call of Champions is now available as a free download exclusively on the App Store for iPhone and iPad.
by MissyS