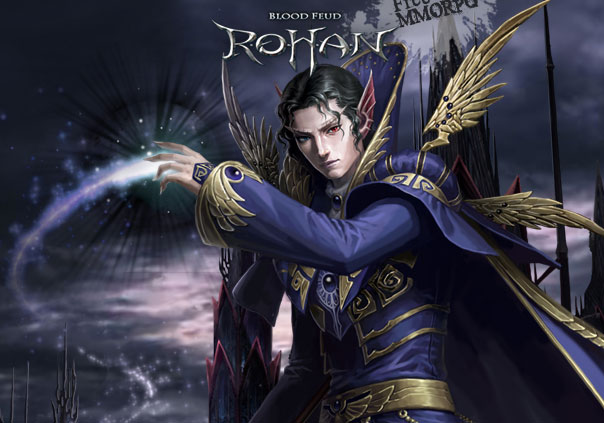 Rohan Online: Blood Feud may not be the most innovative game out there but it manages to take tried and true MMORPG elements and blend them into one of the best free to play games available. The graphics and music are top notch and the game is feature packed. Besides a huge world to explore, Rohan has a wide variety of PvP options. Oddly, your race and class choices are intertwined in Rohan, each race represents a distinct class. This does limit variety but each class has a huge skill tree with multiple branches which leads to a number of specializations per class. The current races/classes in Rohan are:

Human (Knight) – Toughest race, best suited for a tanking role. Specializes in melee combat.

Elf (Healer) – Mainly support race. Elves specialize in healing and buffing their allies though they also maintain many offensive spells.

Half Elf (Archer) – Ranged damage dealer. Half Elves you bows or crossbows to inflict heavy damage from a distance. Half Elves make excellent soloers but can also assist others.

Dhan (Assassin) – Rohan's specialty assassin race, Dhans can activate a special assassin mode where they can attack other players at will and gain experience from defeating them. In this mode, Dhan's cannot party or complete quests.

Dekan (Dragon Fighter) – Dekan are offensive spell casters who have the ability to drain hp from their opponent and transform into dragons.

Dark Elf (Mage) – Powerful spell casters. Dark Elves are the traditional heavy nukers of Rohan. Dark Elves also have a number of curse and debuff spells at their disposal.

Giant (Warrior) – A powerful melee oriented class. They can use dual blades or powerful 2 handed weapons to attack multiple enemies at once.

Status: Released
Business Model: Free to Play
Developer: Playwith Interactive
Publisher: Playwith Interactive
Category:

Stand-alone

Genre(s):

3D, MMO, RPG

Platforms:

PC


Pros:

+Great music.
+Rewarding optional tutorial.
+Heavily PvP oriented.
+Plenty of dungeons and other zones.
+Large skill tree for each of the 7 classes.

Cons:

-Huge world, lots of walking.
-Game crashes on occasion.
-Quests are dull but necessary.
-Each race has only one class available.



Recommended System Requirements:

OS: Windows XP SP 3 Windows 7
CPU: Quad Core 2.5Ghz
RAM: 2GB
GPU: GeForce GTS 250 Radeon HD 4850
HDD: 12G



Description: Rohan Online: Blood Feud is a 3D Fantasy MMORPG with great graphics, music and PvP oriented gameplay. Choose from seven races and explore the lush world of Rohan.
Dark Era (http://darkera.game321.com/), a 3D hardcore ARPG, will begin closed beta testing at 8:00 (GMT) today.
by MissyS
Yesterday, Marvel Future Fight celebrated three years of gameplay, and are commemorating with a number of special in-game events.
by Ragachak
The nicest way to refer to Villagers & Heroes graphics is "nostalgic." It feels like vanilla WoW or even updated Runescape.
by ApocaRUFF