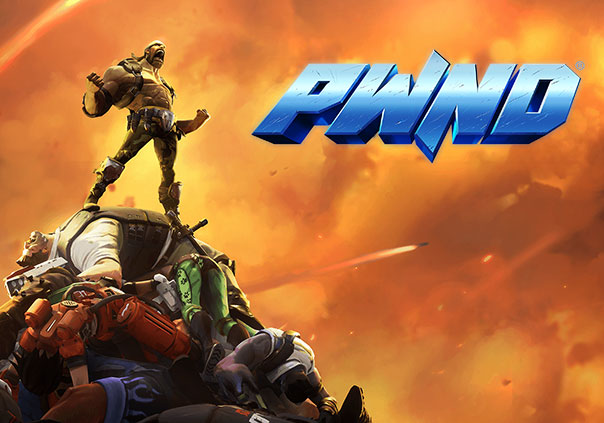 PWND is a 3D MOBA shooter developed by Skydance Interactive for PC and is available for purchase on Steam Early Access. PWND takes place in a dystopian future that looks like 1980s culture took hold and never left. Reliving the "decade of excess" multiple times over in an arms race full of high-octane, consumer-driven hyper masculinity, and you get to be part of it!
Originally rocket arena combat was the most thrilling sport around, but it quickly grew boring to due to the invention of the LAZER-US Resurrection Pods. These pods allow participants to respawn into new bodies after their old ones have been trashed. The stakes certainly didn't feel high enough when participants could just resurrect after they were defeated, which is how the pwning system came about to add an element of humiliation into the mix!
In PWND you will battle to gun down your foes, but that's not where it ends. To secure your score you will need to pwn your enemies after they've been defeated, performing a close range victory dance on them while they are downed. Make sure your team has your back, because you certainly don't want to be on the receiving end of such humiliating acts! Don't fear death either. Remember LAZER-US Resurrection Pods were just invented so you're free to try and get revenge on your enemies as many times as you'd like! Use your unique abilities to your advantage, play in different game modes, and experience the thrill of tactical gameplay that is all based around not getting disgraced after defeat.
The world is looking to crown the ultimate badass, but will it be you? Show the world what you're made of by blasting your foes down and pwning them into submission. Claim the title that you so rightly deserve and fight to preserve it for all of eternity in PWND!
Status: Released
Release Date: Jul 20, 2017
Business Model: Retail
Developer: Skydance Interactive
Publisher: Skydance Interactive
Category:

Stand-alone

Genre(s):

3D, MOBA, Shooter

Platforms:

PC, Steam


Pros:

+Considerate, devoted developers.
+Lots of competitive potential.
+Hilariously fun with addictive gameplay.

Cons:

-Limited content in Early Access stage.
-Small player base.
-Needs bugs cleaned up.



Recommended System Requirements:

OS: Windows 10
CPU: i5-4670K or better
RAM: 8 GB
GPU: GTX670 2GB VRAM or R9 380 2GB VRAM or better



Description: PWND is a 3D MOBA shooter where players will fight to down each other and score points by pwning each other with humiliating victory dances. You might be able to resurrect as many times as you need to, but the disgrace of getting pwned will follow you forever!
Check out Pocket Gems for instance and their brand new game, War Dragons. Pocket Gems is a company that usually produces gentle, lighthearted
by Ojogo
Curse Inc., a leading video game media and technology company, has announced the next generation in gaming communication with Curse Voice.
by Mikedot
King of Kings 3 is set to celebrate Chinese New Year with several events.
by MissyS