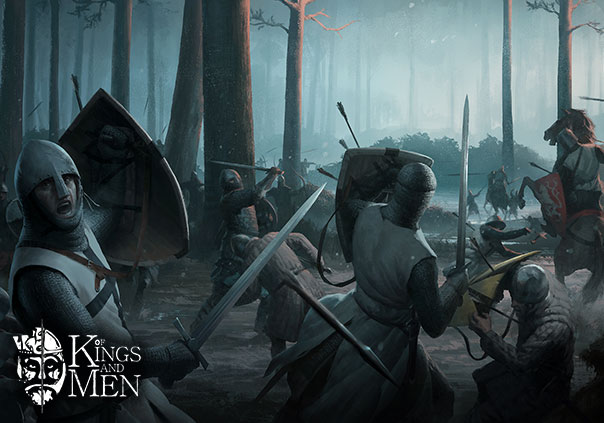 Of Kings and Men is a buy-to-play 3D medieval combat game developed by Donkey Crew for PC and is available on Steam Early Access. In Of Kings and Men players can experience huge, player-driven medieval battles with over 200 players at a single time. You will need to capture territories and eliminate your foes to help your team come out on top.
Don't think that combat is the only way that you can get the best of your opponents though. You'll also be able to conquer enemies through political and economic means by sending armies to protect your cities, sending armies to invade enemy territories, and leading your troops into sieges against enemy fortifications. It is also planned for future development to make it so battles, whether they are won or lost, will also affect the broader The Epic world and change history as you know it. The world of The Epic will span several months so your entire faction you're aligned with can earn funds collectively, and whenever a round ends the world will be reset so history can once again be rewritten.
Battles are fought in a fluid combat system that is very rewarding to those who can master it. Using your mouse you'll control the direction of swings and blocks, making quick reflexes and decisions key in your success. Various types of weapons and armor will become available as you win matches which can swapped out and customized to your liking. Progression will also yield valuable skill points that can be used to specialize your character's combat style to your preference.
Do you like medieval combat? Do you like battles of epic proportions? Then go shape history forever in some of the largest medieval battles around in Of Kings and Men.
Status: Pre-Release
Release Date: Aug 25, 2016
Business Model: Retail
Developer: Donkey Crew
Publisher: Green Man Gaming Publishing
Category: Stand-alone
Genre(s): 3D, RPG, Strategy
Platforms: PC, Steam

Pros:

+Great dev/community interactions.
+A lot of attention to combat.
+Melee combat is rewarding once learned.

Cons:

-Combat takes some time to actually learn.
-Subject to huge balancing swings.
-Not a good enough variety of game modes.



Recommended System Requirements:

OS: Windows 7, 8, 8.1, 10 (64-bit versions)
CPU: Intel CPU Core i7 3770 3.4 GHz / AMD CPU AMD FX-8350 4 GHz
RAM: 16 GB
GPU: Nvidia GPU GeForce GTX 780 / AMD GPU Radeon R9 290
HDD: 10 GB