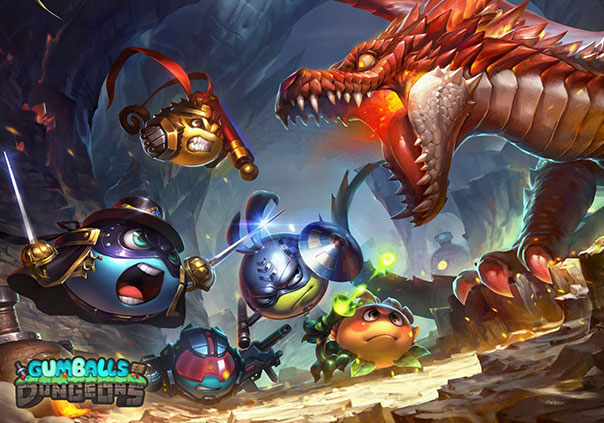 Gumballs & Dungeons is a free-to-play mobile fantasy RPG developed by Qcplay Limited for iOS and Android. In Gumballs & Dungeons you can experience a rogue-lite, dungeon-crawling experience like none other where you can lead your Gumball fighters through dungeons. Waiting at the end of your adventure is the Evil Dominator of the Erathia continent who won't go down without a fight!
On your journey you'll unlock new Gumballs to add to your fleet like a Mage, Swordsman, Vampire, and more! Each Gumball can be geared before you take them into a dungeon, helping prepare them for whatever dangers await. In every dungeon run Gumballs will also independently progress and earn titles that will give them specific buffs for that run. As you lead your Gumballs through dungeons they will travel across connected tiles on a grid, and you won't know what's under each tile until you tap it to flip it over. New items, events, or even enemies looking for a fight might be waiting underneath so you'll need to be prepared for the worst with each movement! When you're away and unable to explore dungeons actively you can passively farm for gold, food, and resources. Once you're back you can exchange these resources for potions and equipment that you can take on your next dungeon run, helping your Gumball explore even further.
For those Gumball warriors looking for an even greater challenge they can travel to the Celestial City and challenge other players on a world wide scale. If successful you can earn even more resources to upgrade your Gumball fleet with so you can take on even tougher dungeons and opponents.
Every Gumball seeks adventure, and its your job to help them find it. Build your fleet of Gumballs, stop the Evil Dominator of Erathia, and prove to the world that your Gumball fleet is one of the strongest in existence!
Status: Released
Release Date: Jul 11, 2016
Business Model: Free to Play
Developer: Qcplay Limited
Publisher: Qcplay Limited
Category:

Mobile

Genre(s):

2D, RPG, Fantasy

Platforms:

iOS, Android


Editor's Score: 4/5

Pros:

+Don't have to pay any money.
+Deep story.
+Communicative development team.

Cons:

-Takes a long time to regenerate vigor.
-Alliances feel unnecessary.



Recommended System Requirements:

OS: iOS 7.0 / Android 2.3 or later
HDD: 209 MB



Description: Gumballs & Dungeons is a free-to-play mobile fantasy RPG where players can lead Gumballs through rogue-lite dungeons and help them grow even stronger. With so many Gumballs to choose from and upgrade the Evil Dominator of the Erathia won't stand a chance against you!
Paladins combines a rich fantasy setting with the fast action of a team-based first person shooter.
by MissyS
En Masse announces the launch of the Mummy See Mummy Doom update for Zombies Monsters Robots (ZMR).
by MissyS
If you are a fan of tanks and love to reign down chaos with them, then Battleline Steel Warfare is the right game for you.
by Proxzor