*Note: This game has been cancelled or shut down and isn't available for play.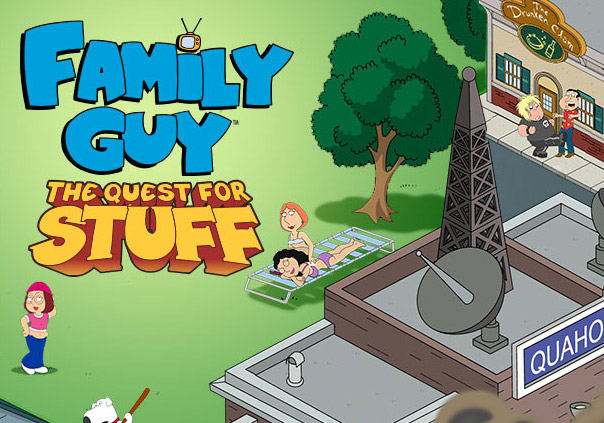 Family Guy Online is a F2P browser based MMORPG that allows players to become bona-fide citizens in the animated world of Quahog. Assist your favorite characters from the hit TV show Family Guy by completing various quests. Visit the Griffin house, the Drunken Clam, and stroll through Spooner Street. Perform wacky social skills like emitting giant gas clouds or drop a disco ball to initiate an instant party with friends. Collect items, fight in PvE battles, and win achievements for cool prizes. It's all fun and jokes in this comical role-playing game by Twentieth Century Fox. Players can choose from four starting character classes. There's also a special Brian class that can be unlocked later in the game for advance players.
Character Classes:
Stewie – This character class generates pint-size evil geniuses capable of dealing massive amounts of damage to their foes. To compensate for their fragile exterior they are armed with a variety of cool gadgets.
Chris & Meg – A combination of the Griffin siblings this class can take a large amount of abuse and stay standing. Despite their awkwardness these teen rebels have several devastating attacks when provoked.
Peter – As the head of the Griffin clan this loud, gassy, dysfunctional father loves being on the frontline. Using his size and weight he can attack multiple enemies simultaneously.
Lois – These skilled female fighters are experts in Tae-Jitsu and the art of Foxy Boxing. The Lois class also has the ability to heal wounds with a motherly touch or smooch.

Status: Shut Down
Business Model: Free to Play
Developer: Twentieth Century Fox Film Corporation
Publisher: Fox
Category:

Browser

Genre(s):

3D, Casual

Platforms:

PC


Editor's Score: 2/5

Pros:

+Comical items and skills to use.
+Mini-episodes and bonus show content.
+Persistent world to explore.
+Great graphics.

Cons:

-Shop items could be better.
-Character creation limited.
-Generic quests.
-Overcrowded with Ads.
-Gameplay feels repetitive at times.
-No Auto-walk feature.



Updated Browser Required.


Description: Family Guy Online is a 3D MMORPG based off the popular Fox animated series. Join Peter, Lois, Brian, Chris, Meg, Stewie, and other beloved characters from the hit TV show on their misadventures in Quahog.
Recently, Sony Online Entertainment has released their alpha build for EverQuest Next Landmark. NDA has been dropped.
by Mikedot
Via a Kickstarter update, Moon Hunters has announced that it will launch its Online Mode fully today.
by MissyS
Today, Revelation Online revealed a new CG trailer to celebrate the upcoming launch of the Shadowblade Update and the Assassin class.
by MissyS