*Note: This game has been cancelled or shut down and isn't available for play.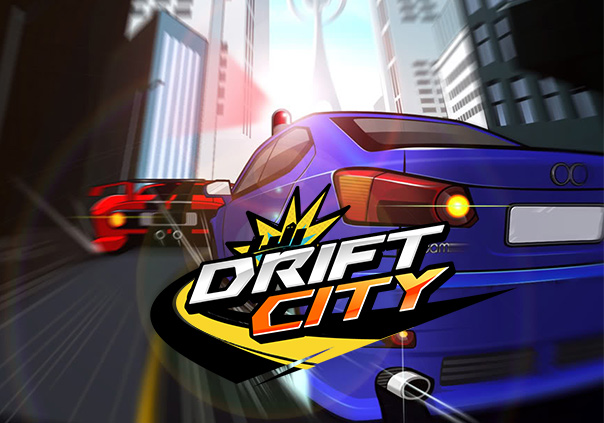 Drift City has got to be one of the most original games I've ever played. Part racer and part RPG, Drift City is the only game that can be truly labeled a racing MMORPG. Besides a lobby based racing game, Drift City offers a huge persistent game world complete with 4 cities, each with unique missions, side quests and geography. Drift City even has a back story — a new valuable fuel source called mitron was discovered on an island in the Pacific.
The island was named after the substance and quickly developed but mysterious unmanned cars began to appear and harass the inhabitants. Dubbed HUVs (High-Tech Unmanned Vehicles), they posed a threat to the island forcing all pedestrians off the roads. Expert drivers from around the world (such as yourself) were called in to deal with the HUV menace.
Cities:
Moon Palace – This is where new players start their adventure. Moon Palace is a seaside metropolis with a wide open road system. The east of the city houses a portion of the island's industrial district where Mittron is refined. There is an airport on the west side of this city that is shared with Oros.
Koinonia – Mittron Island's industrial and commercial center, which also features a seaport.
Cras – A hilly city that is also home to the facilities where Mittron is mined. The city has a tunnel that leads players directly back to Moon Palace without having to pass through Oros or Koinonia.
Oros –A desert city that is a hot spot for Mittron development. Its main facilities are a space center and a secret military installation named "Area 71" based on Area 51 in America. Released in November 21, 2008.

Status: Cancelled
Release Date: Sep 05, 2007
Business Model: Free to Play
Developer: Naver Corporation
Publisher: GamesCampus
Category: Stand-alone
Genre(s): 3D, Sports, Simulation
Platforms: PC

Pros:

+Large, persistent game world.
+Hundreds of single player missions and side quests.
+Dozens of car types and parts.

Cons:

-Repetitive missions. -
-Imbalanced powerups.
-Can't race right away, must complete several missions.



Recommended System Requirements:

OS: Windows XP
CPU: Intel Pentium 4 2.4 GHz or better
RAM: 1 GB
GPU: Nvidia GeForce FX 6000 or better
HDD: 1 GB