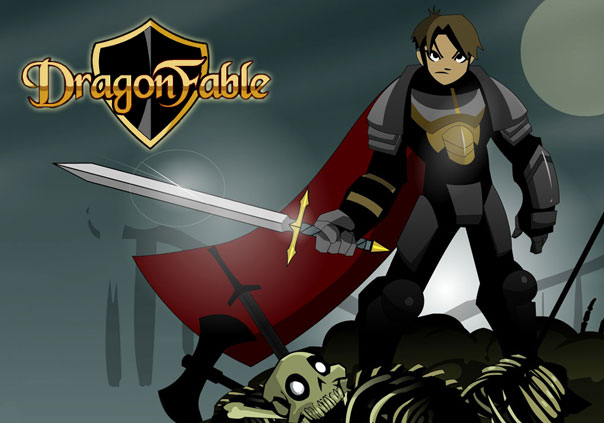 DragonFable is the sequel to AdventureQuest and has many improved gameplay features. Like other Artix games, DragonFable has turn based combat but supports up to 3v3 battles. While still a single player game, the ability to explore the game world rather than simply move from screen to screen make DragonFable feel much more like a complete RPG experience. The art style is similar to that of its predecessors but looks much sharper and with the ability to enter full screen mode, you may even forget you're playing a web based game. Since this is a single player game, there is a greater emphasis on story which is welcome. The casual and at times comedic dialogue helps keep the game interesting. There are three classes to chose from during character creation with more available as players advance in level. The starting classes are:
Fighter – A basic melee class with speciality in closed range combat. Fighters wear heavy armor and have skills that focus on increasing both physical and elemental resistance.
Mage – The basic magic user. Mages are armed with staffs but rely on elemental spells to defeat their enemies.
Rogue – Like Fighters, Rogues start out as mainly using close ranged attacks but possess ninja like skills such as double attack and smoke screen.

Status: Released
Release Date: Nov 16, 2005
Business Model: Free to Play
Developer: Artix Entertainment
Publisher: Artix Entertainment
Category: Browser
Genre(s): 2D, Adventure, RPG, Fantasy
Platforms: PC, Mac

Editor's Score: 3/5

Pros:

+Large community.
+Lots of content.
+Huge variety of pets & equipment.

Cons:

-Limited multiplayer aspects.
-Many features are only available to paying members (Dragon Amulet owners.)





Total War Attila Announced
SEGA® of America, Inc. and SEGA® Europe, Ltd. today announced Total War™: ATTILA, the next installment in the multi award-winning Total Wa...
by Mikedot