UPDATE: This game has been shutdown and is no longer available
Parabellum is a 3D Tactical MMOFPS game that is being powered by the visually impressive U3 engine and will have an emphasis on character customization as well as uniquely designed maps based off of real world places.
Publisher: GamersFirst
Playerbase: Low
Graphics: High Quality
Type: MMO
EXP Rate: Medium
PvP: N/A
Filesize: ~2GB
Pros: +Fair selection of weapons. +Customizable weapons. +Good map designs. +Solid core gameplay.
Cons: -Very Few maps and game modes. -Weapon customization feature needs to be expanded on. -Feels very "incomplete"

This is a Preview. This page will be updated when the game is fully released.
Overview
Parabellum Overview
Parabellum is 3D MMOFPS game by gamers first. not surprisingly, it plays a lot like Nexon's Combat Arms, IJJI's War Rock and just about every other tactical MMOFPS on the market. What makes Parabellum a bit different is that it looks absolutely gorgeous, as the game was developed on the powerful U3 engine. The game has remained in "closed beta" for over a year now. Even though it's  labeled as "Closed beta" Anyone with a GamersFirst can freely access the game. As is, the game feels incomplete, as it only has a handful of maps and game modes, few customization options and weapons.
Parabellum Screenshots
Parabellum Featured Video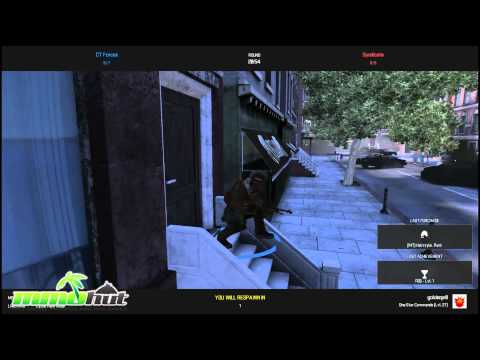 Full Review
Parabellum Review
Coming Soon… After the game is released.
Screenshots
Parabellum Screenshots
Videos
Parabellum Videos
Coming Soon… After the game is released.
Links
Parabellum Links
System Requirements
Parabellum System Requirements
Minimum Requirements:
OS: Windows XP / Vista
CPU: Pentium 4 2 GHz / AMD XP 3200+ or better
RAM: 512 MB or more
HDD: ?? GB Free
Graphics Card: GeForce 6200 or ATI Radeon 9600 or better
Recommended Specifications:
OS: Windows XP / Vista
CPU: Pentium 4 2.5 GHz
RAM: 1024 MB (1GB)
HDD: ??  GB Free
Graphics Card: GeForge 7800