World of Warships: Legends Introduces German Navy in Latest Update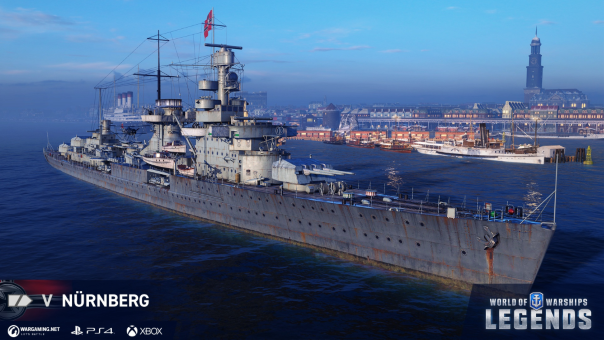 World of Warships: Legends is getting set for a massive update that will add a slew of content to the console edition of the shooter. Perhaps the biggest part is the addition of the German navy. As a part of today's update, players can take command of some of the most famous German Cruisers, Nürnberg and the Hipper, both of which rely on a balance of great gunnery and high hull strength. Players can get early access to some of these, such as the famous Leberecht Maass. The Battleship Scharnhorst, which is sure to strike fear in all those who face her mighty guns, will be available as a premium purchase. The German fleet will continue to expand in the coming months, with early access to Destroyers in July, becoming fully accessible to players in August.
Seven new German Commanders including Franz von Hipper, Reinhard Scheer, and legendary Graf Maximilian von Spee will play a crucial role in World of Warships: Legends, as not only do they represent a pivotal moment in naval history but enhance ships in the following ways:
Improve the ship's attack and defense capabilities
Boost shell and torpedo performance
Enhance maneuvering and survivability
Make consumables more effective
World of Warships: Legends also adds a new campaign to the game, that will replace the Atlanta Campaign. This is the "Search & Destroy" Campaign, and it will introduce new and additional consumables to the game. Deutschmarks are a special currency used in this campaign, and it will also showcase the German port of Hamburg as a new harbor. As if that weren't enough, the new Liberty Pack arrives just in time to celebrate the 4th of July. This bundle comes with a ton of supplies to help increase in-game success. It will offer boosters, camouflage, and Premium Account time. There are also several new player-requested updates arriving in this update for World of Warships: Legends. This is just the beginning, and there will be new missions, new nations, and much more coming in the next few months.
A much-requested Service Record feature will now allow players to check their detailed game stats and adjust their playstyle – or just brag about their in-game successes, with stats to back up their braggadocio
Commendations will debut in World of Warships: Legends, improving Commanders' arsenals with new skills, upgrading existing ones, and advancing your crew to legendary ranks
This update also introduces modified map spawn configurations, designed to offer players more tactical choices when battles begin, as well as various visual improvements
Today, RuneScape has announced changes based on community feedback for the upcoming Fresh Start Worlds event.
by MissyS
The development team, Keen, has been working on Portal Knights for a few years now and it really shows.
by Zelus