World of Tanks: Mercenaries Celebrates Five Years on Console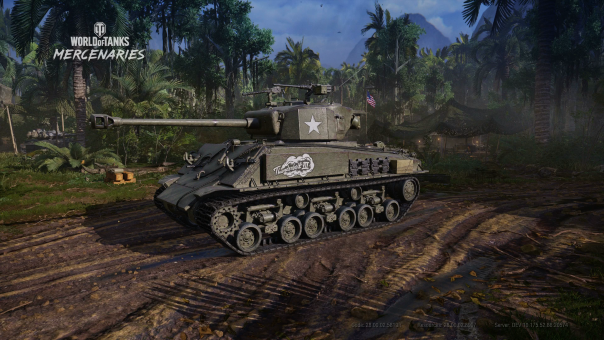 World of Tanks first hit consoles five years ago on the Xbox 360 and is presently on PS4 and Xbox One. Wargaming announced that over 18 million commanders play on console, and are ready to celebrate this five-year milestone with in-game events and prize giveaways. Players who take to at least one battle from February 12th-18th will unlock an exclusive free tank, the Steadfast Light MK VIC. It's a fast British Light Tank and is a special gift to thank the players of World of Tanks: Mercenaries, since their 2014 launch. This vehicle will also disappear when the celebration is over, so don't miss adding it to your collection!
There will also be 75% off of the anniversary collections of the best vehicles released to date; this includes a mega pack that has every Premium Mercenary vehicle, down to the game's famous Heavy metal Hero tanks. Free XP to Crew XP conversion is also available for a limited time only, alongside 20% discounts on Gold to Silver exchanges in the Store. Wargaming is also teaming up with Initial Games and Incredible Adventures, to host their biggest prize giveaway ever. Starting February 12, players who visit the official website will be able to enter to win exclusive game merchandise, including custom jackets and backpacks, branded bottle openers, badges, medals, and even a one-of-a-kind custom PlayStation 4 or Xbox One X console. Five lucky winners will also be invited on an epic once-in-a-lifetime trip to drive tanks, crush cars, and get a taste of life as a real tank commander in Minnesota, USA this May.
There are also new tanks coming to World of Tanks on consoles, such as the stealthy French AMX Canon d'assaut de 105. It's a speedy Tank Destroyer that is both agile and has the knack for concealment. On February 12th, the T-VI-100 hybrid will also come, which is based on the blueprints of a Soviet Project, that would have fitted a German tank with a deadly new weapon. It might be a Tiger, but it also has mighty Soviet firepower. The Winter Games campaign has entered its second phase! 2019's new Ops and rewards system encourages players to fight to earn daily, monthly, quarterly, and annual rewards by racking up points from in-game Ops. Winter Games Bravo is the second phase of this event, and players who complete it can look forward to a hefty discount on the electrifying Thunderbolt, a soon-to-be-released Premium tank.
A pair of events are on the way to League of Angels II, one for Father's Day and one for the FIFA 2018 World Cup!
by Ragachak
Gravity Interactive has launched the Skies of Palus update for Maestia.
by MissyS
One of the biggest things I hear about CCGs (online or otherwise) is that Card Games are "Pay to Win".
by Ragachak