Wizards of the Coast Teams With the Russo Brothers for Magic: The Gathering Animated Series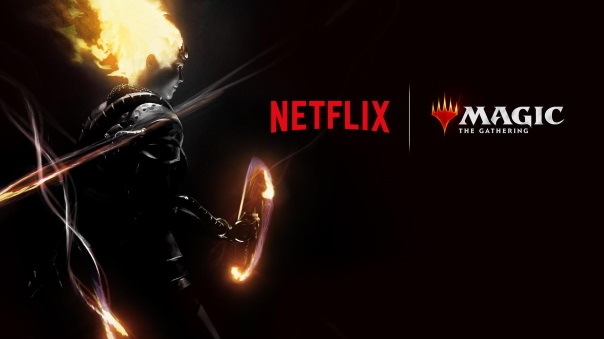 For the first time in Magic: The Gathering's illustrious 25-year history, will it finally receive its own animated series! Netflix is teaming up with Joe and Anthony Russo, Wizards of the Coast, and Hasbro's Allspark Animation to bring Magic: The Gathering to life. This all-new storyline will expand on the stories of the Planeswalkers of the franchise – both good and evil.  Henry Gilroy (Star Wars Rebels, Star Wars: The Clone Wars) and Jose Molina (The Tick, Agent Carter) will serve as lead writers and co-executive producers on the series, and Yoriaki Mochizuki will serve as supervising director and co-executive producer.
"We have been huge fans and players of Magic: The Gathering for as long as it has been around, so being able to help bring these stories to life through animation is a true passion project for us," said Joe and Anthony Russo.
"Working with Joe and Anthony, Wizards of the Coast, and Netflix on such a universally cherished brand is a real highlight for our studio." said Isaac Krauss, CEO of Octopie. "Our goal is to not only tell a compelling story leveraging Magic: The Gathering's incredible body of work, but to also push the medium and perception of storytelling through animation. This series will cross the genres of suspenseful thriller, horror, and drama with deeply developed characters the likes of which are not often seen in animation."
"More fans are enjoying Magic now than at any time in its 25-year history thanks to the enduring popularity of the tabletop game and our latest release War of the Spark, as well as the incredible success of our new digital game, Magic: The Gathering Arena." said Chris Cocks, President of Wizards of the Coast. "We're thrilled to collaborate with Joe and Anthony Russo to bring Magic: The Gathering's rich and diverse cast of characters and worlds to Netflix in a way that will delight our many fans and those new to the franchise."
"Magic is a beloved global franchise with a massively engaged fan base that has only continued to grow over the last 25 years," said John Derderian, head of Anime programming for Netflix. "There's no one better suited to bring this story to audiences around the world than Joe and Anthony Russo, whose talent for genre storytelling is unmatched, as demonstrated by their central role in creating some of the biggest box office hits of all time."
Warlords Awakening is an MMORPG in development to be launched on Steam and announced their Ambassadors program.
by Ragachak
MIA Online is a 3D Open-World MMORPG available in Open Beta on Google Play, and they've released a Lunar New Year update.
by Ragachak
CD PROJEKT RED, creators of The Witcher franchise are hosting a GWENT Tournament at Gamescom 2017.
by Ragachak