Webzen Celebrates 7th Anniversary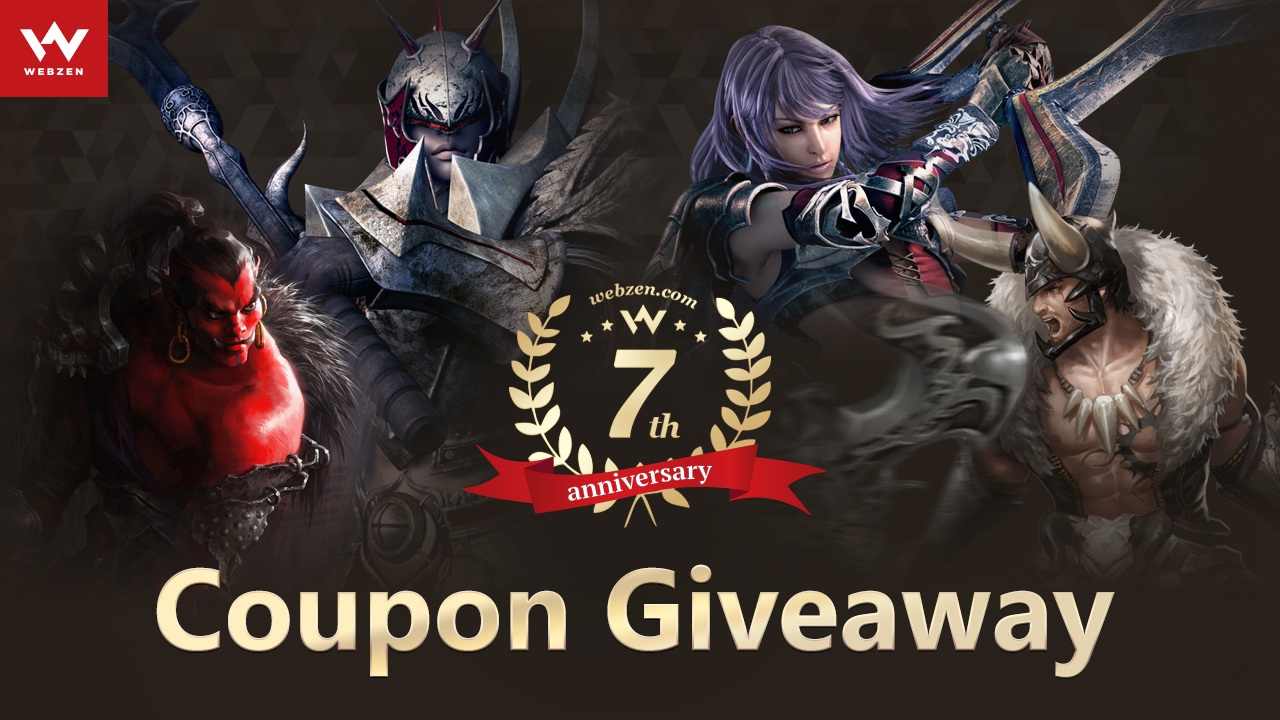 WEBZEN, a global developer and publisher of free-to-play games, today celebrates its global game portal's 7th anniversary with many game events and a new content update, introducing several exciting features.
"WEBZEN.com" is a leading gaming portal for free-to-play online games and MMOs. The portal was launched with the objective of providing multiple games to players via a single login account. Since its launch in 2009 there have been many MMO games released, including the classic fantasy MMORPG ASTA – The War of Tears and Winds, the full-3D MMORPG MU ONLINE and the classic MMORPG RAPPELZ.
To celebrate 7 years of WEBZEN.com, WEBZEN is kicking off an exceptional amount of in-game celebration events for ASTA, CONTINENT OF THE NINTH SEAL (C9), FLYFF, MU ONLINE, and RAPPELZ. Depending on the game, players will be able to boost their characters to a high level for free, gain additional loot, extra gold and EXP boosts, reap the benefits of special additional rewards for both new and returning players, and much more. Full details on the 7th anniversary game events are now available on the official website: http://www.webzen.com/events/Anniversary/7
In addition, WEBZEN has teamed up with MMO websites to give out free coupon codes for their readers and all WEBZEN game communities. From today through to the 24th of May, 2016 (UTC), players can visit any of WEBZEN's media partners to obtain a special coupon code. Players can first select one WEBZEN game and then receive a code granting a free item pack for the selected game. A code is limited to one use per account and can be used with only one of the following WEBZEN games: ASTA, C9, Flyff, MU Online, Rappelz, and ELOA. More information about the media partners' sites will later be shared in detail on the official website.
Along with the anniversary events, CONTINENT OF THE NINTH SEAL (C9) also launches its latest content update for C9 actionists, bringing six new daily dungeons for solo play only. Daily dungeons are special dungeons that can be entered once a day, where players can obtain precious artisan materials. Players can enter one dungeon each day of the week, and on Sundays will be able to choose which dungeon to enter themselves.
Furthermore, C9 players will be able to instantly promote their characters to level 57 and receive full permits to the 4th Continent, with full, ultimate master-graded equipment.
This update also sees the addition of new baits, fish and rewards, as well as many improvements to the game, including a more convenient inventory and guild search system, the addition of a guild member introduction message, guild house improvements and more.
Next Article
Today, the Berlin based developer of the futuristic racing game Quantum Rush: Champions has released detailed information about the many diffe...
by Mikedot
A blast of the biggest MMO news of the day
by Guest