Wargaming Hosts Extra Life Marathon Charity Stream This Weekend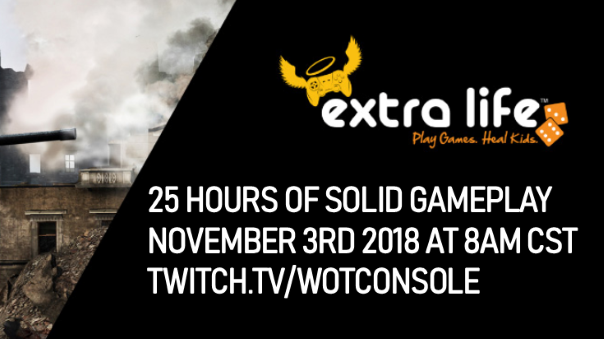 From Saturday, Nov. 3rd until Sunday, Nov. 4th, Wargaming Chicago-Baltimore will be streaming to benefit Extra Life. Their team will be streaming World of Tanks: Mercenaries for 25 hours as a part of the Extra Life Charity, to raise awareness and donations for local Children's Miracle Network hospitals. This stream will go from Saturday, November 3 at 9:00 AM EDT / 8:00 AM CT/ 6:00 AM PDT  until Sunday, November 4 9:00 AM EDT / 8:00 AM CT/ 6:00 AM PDT. Their goal is to raise 5,000 dollars for the cause and invite all players to come to join them for stream activities, giveaways, and fun for a good cause.
While the team engages in battle, they have some great activities planned. Throughout the stream, you'll be able to catch live Q&As and World of Tanks Console developer interviews with the Wargaming staff, as well as Twitch chat challenges, game events, and so much more! You'll also be privy to some fantastic tank giveaways, such as the Atomic Centurion, the Warlord Panther, Trinity Mk II, and more, along with Premium time packages and World of Tanks: Mercenaries t-shirts. There will also be a limited-time bounty event during the stream, where players can destroy one of the Gold-camouflaged BOunty Tanks controlled by Wargaming Staff and community contributors. Success instant gives a x5 XP Boost, one First Aid Kit (large) and one x2 XP Boost.
Without a doubt, Fantasy MMORPGs, are the most common games in the MMORPG market, so picking out just 10 of them from many good ones is going
by Guest
Perfect World Entertainment today announces the first open beta update for Action Shooter MOBA, Gigantic.
by DizzyPW
Developing on their esports partnership, ArenaNet and ESL are introducing with the World Championship the largest Guild Wars franchise prize.
by MissyS