Wargaming Hosting Special Event for US Veterans/Active Soldiers During 2018 Army vs. Navy Game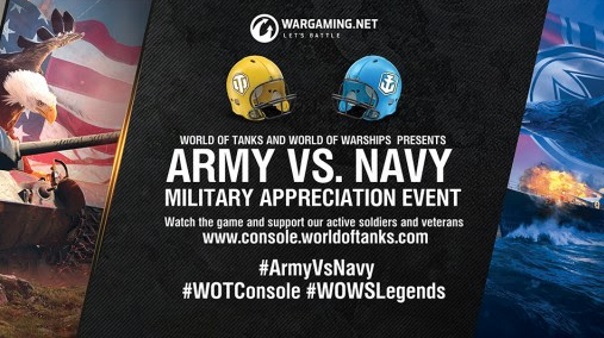 Press Release:
In honor of our veterans and active-duty members of the military who put their lives on the line for their country, Wargaming is giving back via two special activities. The first is a special charity event in the Greater Philadelphia Area, during the annual Army vs. Navy football game on December 8, 2018. At this event, Wargaming invites guests to come to a local sports bar and watch the game, with free food and drinks provided by the publisher. More info and a sign-up form to request an invitation can be found at the official World of Tanks: Mercenaries website. During these events, invitees can also play Wargaming's games on Xbox, chat with the developers from Wargaming Chicago-Baltimore, and win unique prizes!
As another way to honor US servicemembers, Wargaming will sponsor special viewings of the Army vs. Navy game at various U.S. Army and Navy bases around the world. As part of these viewing events, Wargaming will give away video game consoles with World of Tanks: Mercenaries and additionally World of Warships: Legends pre-installed when available.
The Army vs Navy college football game — a rivalry between the Army Black Knights of the United States Military Academy and the Navy Midshipmen of the United States Naval Academy — is a tradition that began on November 29, 1890, that provides a great opportunity for the community to come together for mutual support, to watch a good game, and have fun!
"We are honored to support the active service members across seven different army and navy bases to enjoy the traditional American Football rivalry match together with their brothers in arms," said Ingo Horn, Communication Director for Console at Wargaming. "After the event, they can keep enjoying camaraderie with friends and family around the world via our donated game consoles as they play World of Tanks: Mercenaries or in the near future World of Warships: Legends."
World of Tanks: Mercenaries was developed with a strong focus on history and tank combat throughout the twentieth century, and has introduced over 17 million players to these awesome vehicles while paying homage to real-life events and battles. The Wargaming family has a deep admiration and respect for veterans and active soldiers of the past and present, whose strength, courage and vigilance serve as examples for everyone.
With these activities, Wargaming hopes to give back to the community and contribute to some well-deserved relaxation time and entertainment for our honorable veterans and active military servicepeople, whose service is much-appreciated and whose lives will be always commemorated and celebrated.
World of Tanks: Mercenaries is available to download and play for free on PlayStation 4, Xbox One, and Xbox 360. World of Warships: Legends will be released for PlayStation 4 and Xbox One in 2019.
Next Article
Tonight at 6PM GMT, veteran strategy publisher Iceberg Interactive and developer Arkavi Studios reveal their 4X space-strategy game Lords of t...
by Mikedot
Trion has released details concerning their next major update for RIFT, 4.3 - Crucia's Claw! It will bring a variety of content!
by Ragachak
Riot Games Jatt and Morello discuss massive changes set to shake the League of Legends meta including new and redesigned old items, a complete...
by JamesBl0nde