War Thunder: The Chronicles of World War II Event Begins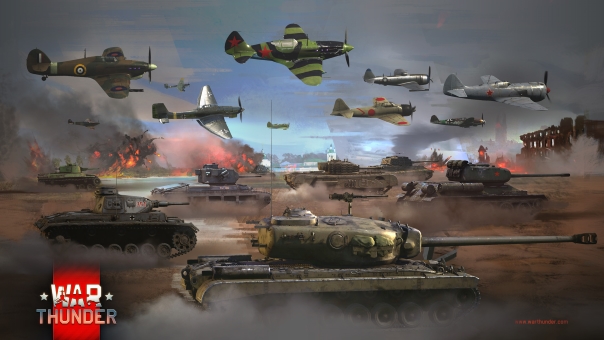 Gaijin Entertainment's MMO action game War Thunder now features 'The Chronicles of World War II', a four-week event series that features the reenactment of 40 major historic World War II battles. Dedicated to the 72nd anniversary of Victory Day. The Chronicles are available until May 10th and will give millions of players the opportunity to obtain new Premium vehicles, decals and 3D decorations that are exclusive to this event.
Every day new and exciting battles will be introduced both on land and in the air. Players will be able to fight in all theatres of World War II, from the old cities of Europe, to the hot and unrelenting deserts of Africa, to the vast expanses of the USSR, and the Pacific islands.  All events take place in chronological order, starting from two historical milestones of 1941 – the German invasion of the USSR and the Japanese attack on Pearl Harbor. This week, the pilots and tankers of War Thunder can participate in the famous Battle of Midway and Battle of Stalingrad, among other encounters. The closing battles will be fought on May 9th and 10th, leading from the outskirts of Berlin to the steps of the Reichstag. A detailed overview of all upcoming battles is available here.
During the entire series, participants will be able to earn 'Chronicle Rewards' by performing various tasks of choice, such as destroying a certain number of enemy vehicles. For every three tasks performed, players will receive a new and unique decoration for their vehicles. For six, the first unique vehicles are available: The U.S. PV-2D attack aircraft and a Soviet version of the British Matilda tank equipped with a 76mm F-96 cannon. Then, after twelve, players can obtain the British heavy assault tank A33 Excelsior and an anti-tank modification of the Soviet Yak-3T fighter.
More information, including details on additional prizes, will be made available in the news surrounding 'The Chronicles of World War II'. Even more prizes await participants of the accompanying eSport tournaments, more information to be revealed later.
Next Article
Elsword announces the start of their yearly and highly anticipated Halloween Dungeon and Event launch.
by MissyS
Dungeon of the Endless will make its debut on Apple® iPad® this summer.
by MissyS
DRAGO has added a lot of new content to this Unreal 3-based non-targeting MMORPG including 200 new quests and beautiful cut-scenes waiting to ...
by MissyS