The Walking Dead: March to War News – Survivor System Detailed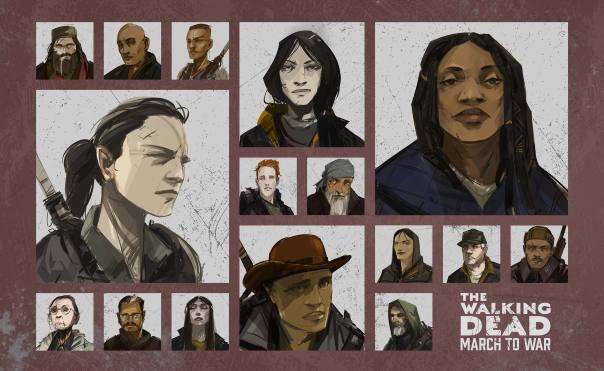 The Disruptor Beam team behind The Walking Dead: March to War has provided new details today revealing a key game system, the Survivor System.
Survivors are non-player characters that serve as "troops" for your team. Each Survivor has a detailed history and personality, and are the primary way of interacting with the map and other players. Players will have to recruit survivors through an advanced system based on the techniques used by Aaron in Alexandria in The Walking Dead graphic novels.
Unlike common troops in other strategy games, Survivors will be highly customizable with a talent system and will come in four different class types. However, they are also vulnerable to being lost permanently, so players will have to be careful if they don't want to lose a favored team member. More about the survivor system is detailed in an interview here.
Disruptor Beam has also recently launched a "Survive the Dead" contest. Fans are encouraged to sign up to the mailing list, which will also grant them a Captive Walker in-game at launch.
Next Article
Sudden Attack has gained a new game mode overnight - Vampire Mode.
by MissyS
Hunted Cow Studios has upped the end-game of their dynamic world MMORPG, Eldevin, by upping the level cap to forty and with it much of the end...
by MissyS
I'm a sucker for a good card game, but in this era of online CCGs, it's pretty damn hard to innovate and try something new.
by Ragachak