Vikings – Wolves of Midgard Announced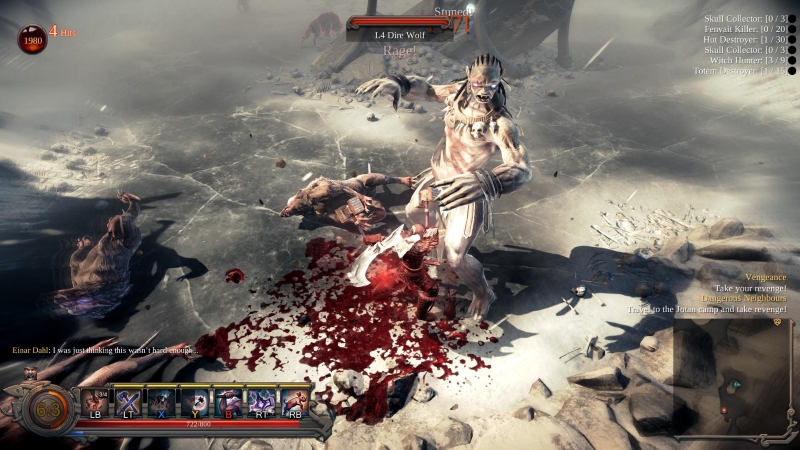 Kalypso Media and Games Farm today announced Vikings – Wolves of Midgard, a new action RPG with a Norse theme.
Legend has it, that when the coldest winter descends, the Jotan will return to take their vengeance against the Gods of Asgard. The world is on the road to perdition and the fate of Midgard hangs in the balance. But when the Fire and Frost Giants begin to merge their armies, they encounter the clan of the Ulfung – the Wolves of Midgard. Bloody, but unbowed following the destruction of their village, this notorious band of ostracized Viking warriors are determined to seize their destiny and save the world. As clan chief, you must save Midgard from complete annihilation, and spearhead the charge to vanquish the fiendish creatures of the Fimbulwinter.
Vikings – Wolves of Midgard will feature a story mode, New Game +, online co-op multiplayer, and the "Trials of the Gods," a special challenge mode to reward the best warriors.  Players will travel the realms of Midgard, Niflheim and Balheim as a Viking or Shieldmaiden, fighting against deadly cold while collecting blood to offer as tribute to the Gods. The game will feature a Rage mode, multiple weapon skills, powerful trinkets to earn, a village to rebuild, legendary weapons, and much more.
Vikings – Wolves of Midgard will launch on PC, Mac, Linux, PlayStation 4, and Xbox One in early 2017.
One of the really cool things that we have is a partnership with R. A. Salvatore on a quest-line that acts as a lead-in to one of the mainline
by ApocaRUFF
Guns of Icarus Online will be demoing new Co-op mode at PAX Prime this year. Co-op mode is a massive PvE expansion that is essentially a new g...
by Mikedot
GamesCampus has announced that Carte, its upcoming trading card game, will begin closed beta testing on February 23.
by MissyS