Vainglory Opens Global Pre-registration for Upcoming 5v5 Mode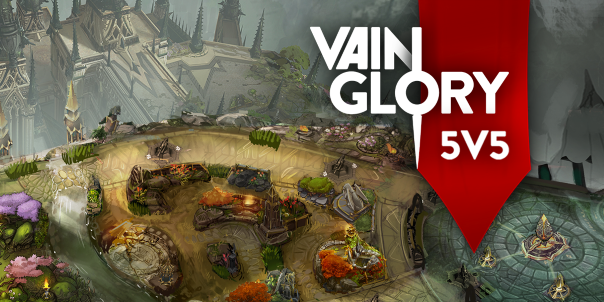 Vainglory today opened pre-registration for its upcoming 5v5 mode. Players can now pre-register at 5v5.vainglorygame.com for exclusive rewards and a chance to enter the 5V5 Early Access.
The upcoming Vainglory 5v5 map, built from the ground up by former competitive players and designers from leading PC MOBAs, will offer the definitive 5v5 MOBA experience on mobile. Vainglory's 5v5 is designed to reward mechanical skill and meaningful decisions around team compositions, objectives and rotational strategies — all while ensuring the most precise controls and the most beautiful graphics optimized across the widest range of devices.
Super Evil Megacorp CEO Kristian Segerstrale commented in the press release:
When we started Super Evil Megacorp, we set out to challenge the notion that mobile-first gamers were somehow inferior to gamers on other platforms. We believed that every phone was a portable next-gen console, and that every mobile player deserved games just as core, strategic and performant as players on PC. Over the past three years, millions of players across the globe rallied to our cause, embracing real-time multiplayer gaming on touchscreens, shifting the market in our direction.

Fueled by that momentum, our mission now is creating a 5v5 MOBA that is deeply strategic and tactical, with console-grade performance, based on deep, original fantasy and personality-rich storytelling.
Vainglory 5v5's closed beta is conducting around-the-clock playtests with players from multiple regions and all skill tiers.
"We have been working closely with our closed beta community to get our 5v5 exactly right, and we will show it off to everyone at our upcoming World Championship in Singapore in December," said Segerstrale. "We will be growing the early-access community as we move toward launch. If you want to be part of the journey putting final touches on 5v5, be sure to pre-register!"
The Vainglory8 Autumn competitive season will determine which teams fill the remaining open spots and represent their regions at the Vainglory 2017 World Championship at Singapore's Kallang Theatre from December 14-17. Already-qualified teams include defending World Champion Rox Armada (Korea) and two-time Unified Champion Cloud9 (North America). During the event, which will determine the best Vainglory team in the world, Vainglory's 5v5 mode will be unveiled to a global audience of millions who tune in to the competition's streams and VODs.
Viewers can watch all of the Vainglory esports action streamed live on the official Vainglory Twitch, Facebook and YouTube channels.
Next Article
Divine Souls is a fast paced action MMORPG that has great visuals and genuinely fun gameplay.
by Guest
The Moonfire Faire is now officially live in Final Fantasy XIV! It began today (August 7th, 2019) and will run until August 26th, 2019.
by Ragachak
On April 13, NHN will shut down Karos Online "indefinitely."
by MissyS