Vainglory Lunar Teaser – PAX South 2016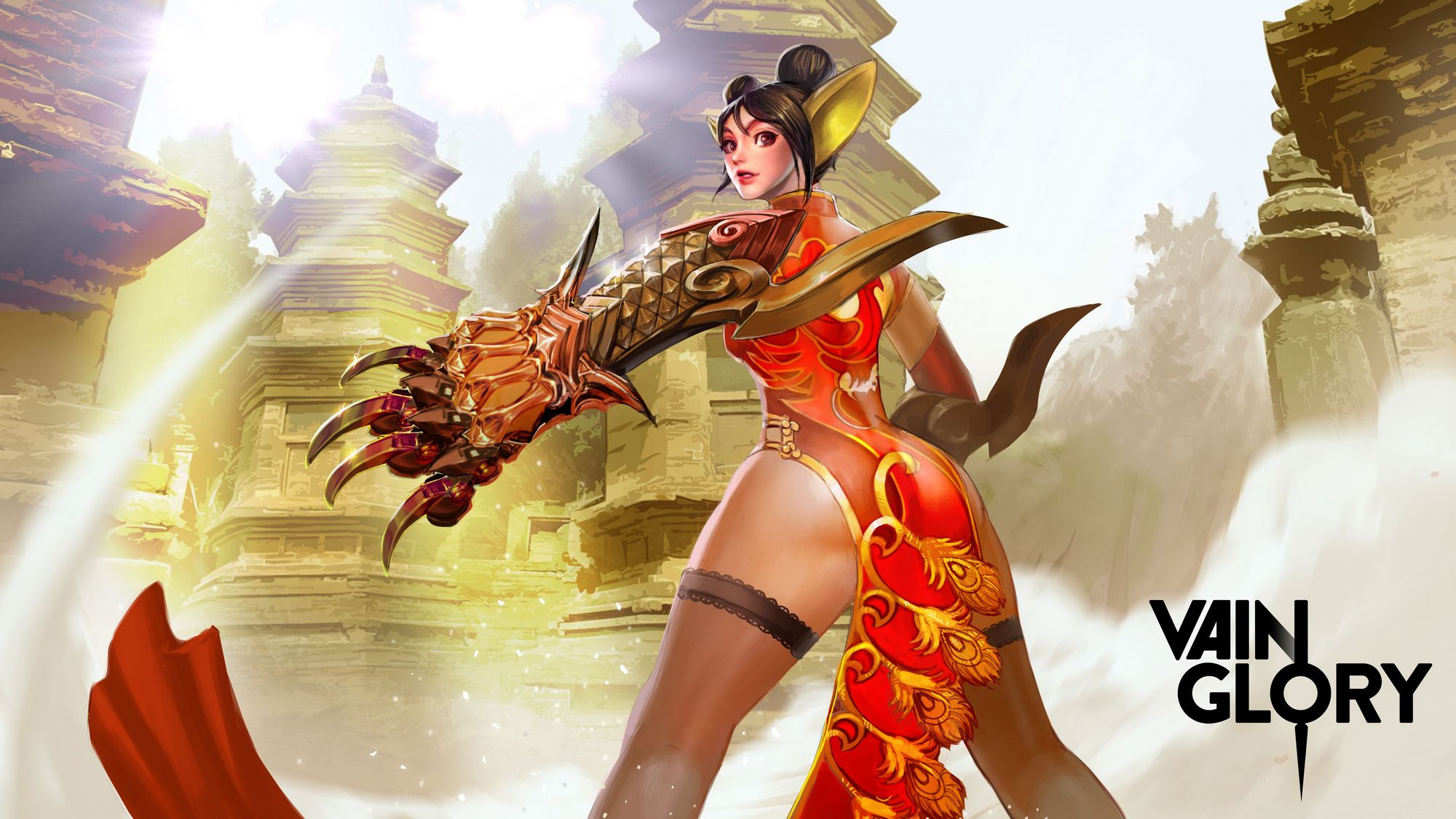 It's hard to believe how fast Vainglory has rocketed into eSports success. At last year's inaugural PAX South, I talked with the game's developer and publisher, Super Evil Megacorp, about the budding possibility of eSports for the handcrafted mobile MOBA. At the time, Vainglory lacked a spectator mode and hadn't yet launched on Android. A year later, Vainglory's wrapped up its first seasonal tournament and awarded $350,000 in prize money. With new announcements about Vainglory's expanding eSports presence, along with its upcoming Lunar New Year patch, I sat down with Heini Vesander, Marketing & Communications Director at Super Evil Megacorp, to catch up.
Part of Vainglory's continued push into the eSports arena is the hiring of Vaingloryleague founders Tomek "bluberryz" Borowka and Jonathan "DonJon" Sakoucky. Vaingloryleague (VGL), the biggest Vainglory eSports community, has been around since the game's beta in Singapore. Tomek and Jon are being brought on to help expand Vainglory's eSports programs into new territories, including South America, Korea, and Southeast Asia. In Korea, Vainglory is partnering with OGN. In Japan, a special cage match style tournament is being organized. While some of these international events may be less frequent as the NA/EU season, it's a huge headway for Vainglory.
Another sign of health for Vainglory's eSports is Media Pixel eSport's acquisition by Team Secret, one of the top Dota 2 eSports teams. Media Pixel eSport was the French team that won the European Autumn Championship. This marks the first non-PC title for Team Secret to include in its eSports roster, and marks a significant recognition for mobile eSports in a PC-dominated market.
Why has Vainglory gotten so popular? I'm sure that one of the key factors is its accessibility, something we praised at our meeting last year. With mobile phones so widely used, Vainglory opens up a competitive scene to a massive market. There's no need for an expensive PC setup worth thousands of dollars in order to compete.
Another key factor is in Vainglory's design, built from scratch with mobile in mind. Many mobile MOBAs feature large and intrusive UIs, traditional three-lane maps that are difficult to navigate on a small screen, and awkward swipe and gesture controls. Vainglory, on the other hand, considered the challenges of mobile design from the beginning, crafting a minimalistic UI, new single-lane map design, and familiar but adapted MOBA mechanics that are better suited to the tap-and-act playstyle of mobile.

Preview of Lunar Map.
With Vainglory's recent launch of the Winter Season patch, another round of competition is about to go underway. Over 800 teams have registered for this season internationally, and dates and venues have been announced for the North American and European competitions. Winter Championships will take place in Santa Ana, California from March 11-13; European Championships will be held at the Gfinity Arena in London from March 18-20. Tickets are available now on Eventbrite.
Outside of the eSports arena, Vainglory is also preparing to launch Update 1.14 within the coming weeks. This patch celebrates the Lunar New Year with a limited map skin, a limited edition Lunar New Year skin for Koshka, a new Rona skin, and a new hero: Ozo.
The Lunar New Year map features traditional Chinese red lanterns, along with fireworks in the background, setting a festive atmosphere. While it's not something you may notice during the heat of a match, looking over the edge to watch a distant explosion of fireworks is a lovely touch from the game's environmental artist.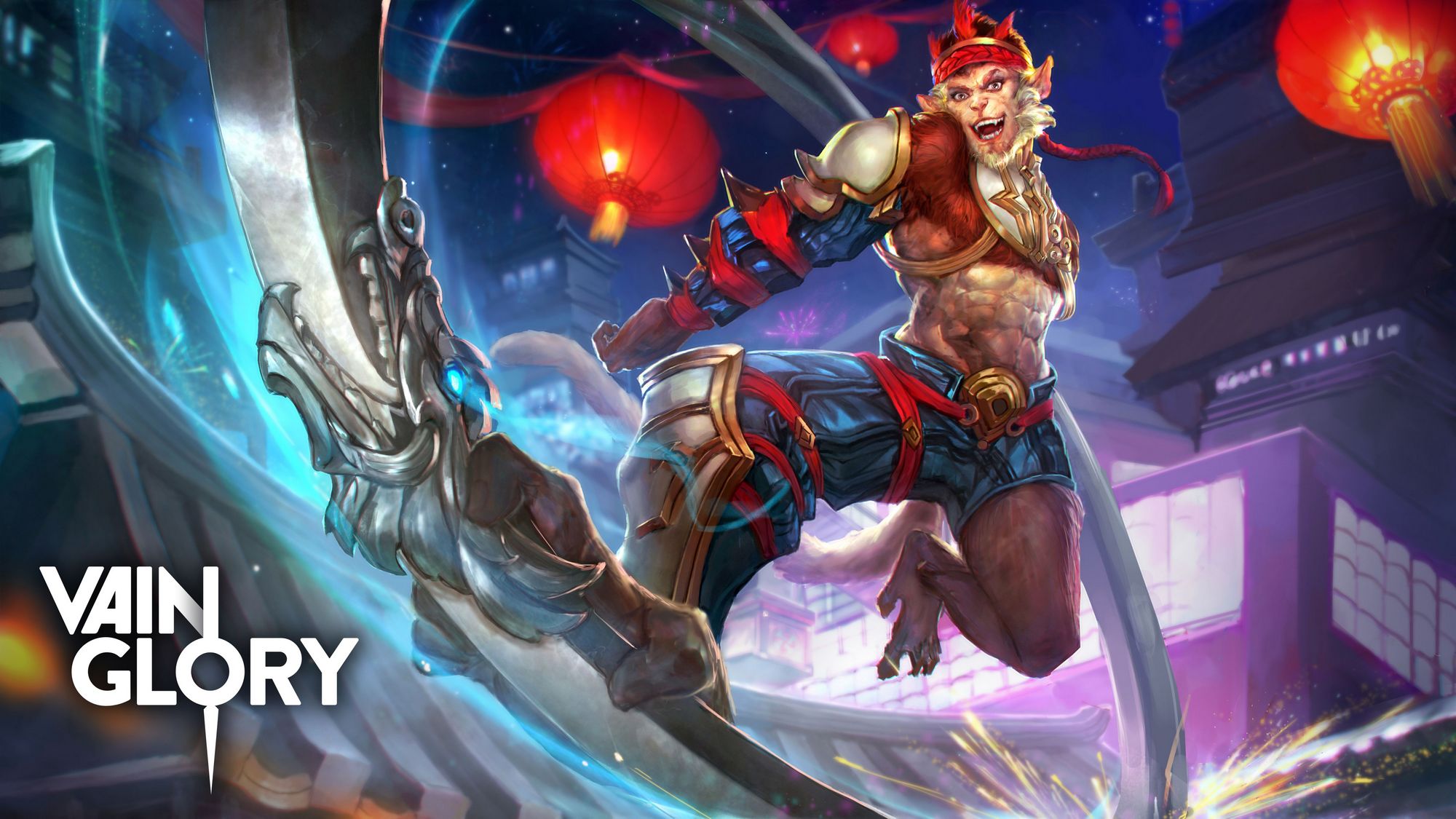 Ozo splash preview.
As this year marks the Year of the Monkey, Ozo himself is a monkey-like character with a ringed blade. Designed with the mobility of a jungler in mind, Ozo's weapon path offers him a damage focus while crystal will gear him more towards being a tank. Ozo's first ability is a three-in-one (the first of its kind in Vainglory), a chain combo that's activated manually. The first attack is a direct strike, while the second attack closes distance with a short dash, and the third runs through and past the opponent entirely, putting Ozo on the opposite side. His second ability is a bounce attack. His ultimate, which only works on enemy heroes, sends Ozo jumping in and throwing the enemy over his shoulders.
It's shaping up to be another exciting and expanding year for Vainglory. There's no more ignoring Vainglory's force as a leader in the mobile eSports market, especially given their incredibly fast rise to fame. With its expanding market into serious global arenas in only a year's time, Vainglory is a real star. I can only imagine where it will be in another year's time.
Next Article
Gazillion Entertainment is pleased to announce the launch of Marvel Heroes 2015. Celebrating a year's worth of content, features and game...
by Mikedot
GamesCampus today launched its 2nd annual US vs. EU Occupational War event designed for players across the globe to fight for their nation and...
by MissyS