Vainglory 2017 World Championships Being Held in Singapore's Kallang Theatre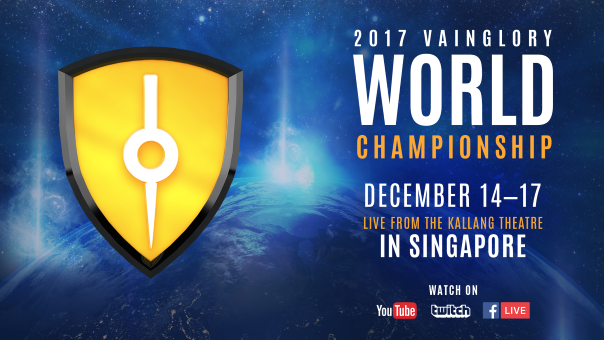 Super Evil Megacorp, developer and publisher of Vainglory, has announced it will hold the Vainglory 2017 World Championships at the Kallang Theater in Singapore from December 14 through December 17. Vainglory's first beta was first rolled out in Singapore at the end of 2013, under the name Kindred.

The World Championships will feature the twelve best teams across the world – including North America's Cloud9, Korea's Rox Armada and ACE Gaming, Indonesia's Elite8, China's Hunters, and Singapore's home team, Impunity. These teams will be joined by six additional teams including two wild card teams and the Autumn Season winners from each region, and compete in front of a live audience.

Super Evil Megacorp CEO Kristian Segerstrale stated in a press release:
The 2017 Vainglory World Championship will not just be the pinnacle of our esports year; it will be arguably the biggest moment in Vainglory history. Live on stage in Singapore, we will globally unveil Vainglory 5v5 in an epic showmatch, coinciding with a major in-game update. This moment will show, once again, that Vainglory is the most uncompromising, unapologetically core MOBA on touchscreens — and a game pushing the very boundaries of the mobile platform.

When deciding where to crown the World Champion and celebrate the rebirth of our game, we had to return to where it all began: The players in Singapore first in beta, and then widely Southeast Asia, embraced Vainglory before anyone else and paved the way for all the success that has followed. And as we embark on a new adventure with 5v5, Southeast Asia will once again be a central strategic and community focus. We intend to prove to MOBA players around the world that Vainglory is the most-fun, best-performing 5v5 experience out there, and we look forward to working closely with our community to make it the best it can be.

The Vainglory 2017 World Championships will also feature keynote speeches from Super Evil Megacorp, including the first showcase match of the upcoming 5v5 mode, played live on stage before the grand finals. Tickets are available for free at Vaingloryworlds2017.peatix.com.

The press release goes on to summarize the current stage of the upcoming Worlds:
North America's Cloud9 storms into Vainglory Worlds with a heap of momentum following decisive wins at both of the Unified Spring Championships in London and Summer Championships in Los Angeles. But Cloud9's road to Vainglory Worlds won't faze a Southeast Asian bracket full of fierce competitors, including Rox Armada, a team made up of members that won the inaugural Vainglory World Championship last year and are looking to repeat the win.

"This year, we have taken a new approach to our training and that preparation has paid off with consecutive live championships in Spring and Summer," said Ian Huston, manager of Cloud9. "We are honored to be competing against the best international Vainglory teams and we cannot wait to show the world what we have planned."

A European team has yet to secure a spot, but the field of competitors is still being drawn as Vainglory8 kicks off on September 22nd from the ESL Studios in Burbank. Vainglory8 will decide if a European team, like London-based esports giants Fnatic make the trip to Singapore or if last year's runner-up Team SoloMid will get another shot at title of World Champions.
Next Article
It's almost time for the Brave Frontier Summer Festival 2017. Players will be able to boost their Omni Units into Omni+ levels.
by Ragachak
Available now on the burgeoning Game321.com games portal, Endless Fury is a breathtaking side-scrolling arcade-style action MMORPG that gives ...
by MissyS