upjers Prepares for Spooky Halloween Events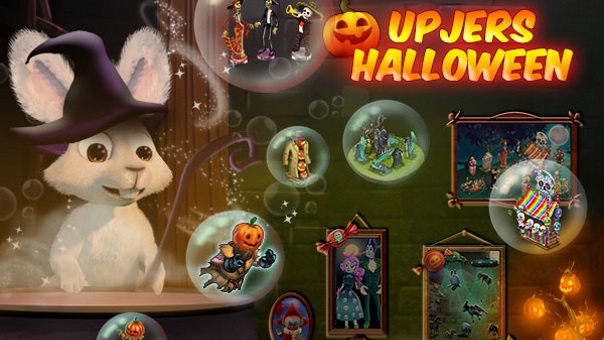 upjers revealed that they are beginning a series of spooky Halloween events across their catalog of games. Players can enjoy numerous games and win terrific prizes in events across these titles.
October 23: Halloween Events Starting on the Tuesday of Terror:
My Little Farmies is combining Halloween with Venetian carnival celebrations this year. Many event decorations can be placed in water, allowing you to turn your medieval farm into a mysterious Little Venice in the midst of a masquerade ball! The grand prize? A new wonder of the world – the Camel Caravan – which supplies users with coffee berries, cocoa pods and tea leaves.
Aliens are invading Mootown and abducting My Free Farm's animals. Players can shoot down UFOs with self-built candy bombs in the "Alien Invasion" event.
The sewing machines are running overtime in Molehill Empire to finish off the last Halloween costumes. Players can find the materials for these by harvesting select plants. Rewards include gruesome new gifts such as a swamp monster, horror bride, or even the Devil himself!
My Free Farm 2's 3D world is something of a zombie graveyard for Halloween. Ice-cold hands claw their way up through the freshly tilled fields. Harvest them to get a flying witch for your farm!
In MyFreeZoo Mobile, Halloween celebrations have been taken over by the Mexican Día de Muertos. Colorful skulls, spine-chilling potted plants and skeletal fences will help players earn event prizes such as the flying fox, common raven and northern bald ibis.
October 24: Halloween Events Starting on Were-Wednesday:
Browser game My Free Zoo also has three Halloween animals up for grabs. New this year: the rabbit fish, which is more fearsome than the name makes it sound. Players that decorate their zoo with statues of Frankenstein's monster, animal skeletons, and pumpkin pie stalls can look forward to these new zoo denizens.
Slime alarm in My Sunny Resort: Halloween decorations give you adorable Slimpusses, which can be redeemed for pieces of prizes, including the new Slimette NPC.
October 25: Halloween Events Starting on Thrilling Thursday:
Zoo 2: Animal Park is illuminated by pumpkin lanterns and lampions. These don't just grant light, but also pumpkins, which players can collect and redeem for a flying fox, witching grounds, or a light holder.
The Stonies are surprised to be finding pumpkins in their harvests. These can be redeemed for a haunted storehouse with lots of room for food and resources.
Wauies – The Pet Shop Game is reminding everyone that Halloween has its roots in Ireland with the new prize animal, the Irish Wolfhound. Other animals are enjoying colorful costumes, showing off their best wiener dog, Pegasus, and Marco Purrlo impressions.
InnoGames has announced its newest title, Kartuga, at E3 in Los Angeles.
by MissyS
Torchlight isn't dead, and the hoped for Torchlight MMO is being developed by many of the minds that originally created it.
by MissyS
Surprise Attack Games and ThoughtShelter Games are pleased to bring you A Druid's Duel for Win, Mac and Linux. At its heart A Druid'...
by DizzyPW