Upjers Announces Their Christmas Events Across Their Catalog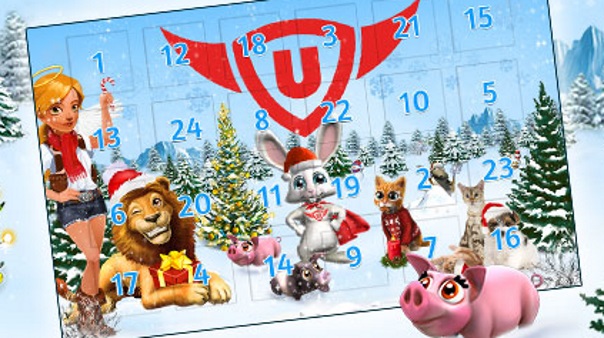 upjers revealed their complete list of Christmas Events, from the Icy to the Super Sweet. They are offering, depending on the game, Decoration Events, Collection Events, and Event Classics for their audience.
Decoration Events:
My Little Farmies: Grandfather Frost has covered the event decorations with a thick coat of ice. New this year: Special event decorations for water terrain. The grand prize is a kiln, with three new dried products!
My Free Zoo: A nativity scene complete with oxen, a donkey, and sheep, as well as sales stalls for gingerbread and baked apples help players earn our latest event animal, the chamois.
My Little Farmies Mobile: Players can create an ice palace with angel statues and reindeer sleighs; the fur shoe vendor will make sure no one gets cold feet. Where does he get his pelts? From the trapper – a new wonder of the world and the grand prize of this events.
MyFreeZoo Mobile: Candy canes, icing bushes and an igloo made of sugar cubes are just three of the sweet decorations in the zoo app. Busy decorators can net a pair of ermines.
My Sunny Resort: It's not just the bungalows being decorated for Christmas with festive fireplaces, but also the beaches: with inflatable reindeer and Christmas trees made of sand. Decorate enough, and a sock elf will come crawling to the resort!
Wauies – The Pet Shop Game: The Christmas cat tree is all set up; the snowglobe aquarium has just been delivered. That's bound to make the customers and pets in the shop happy. The Newfoundland is waiting as the new event animal.
Collection Events:
Zoo 2: Animal Park: The forecast for the zoo? Snowflakes! Beginning Thursday, three different decorations in the 3D app will provide snowflakes, which players can collect to earn reindeer, a snowman, a Christmas sleigh, and a Christmas tree. Let it snow!
My Free Farm 2: The fields are covered in white… Christmas roses. Players that plant and harvest enough can get a winter sports gnome for their farm.
Horse Farm: The ranch seems to have lots of Christmas ornaments laying around. Beginning on December 17, players can collect them to get the Christmas horse, a festive Noriker.
Event Classics:
Molehill Empire: The cello sheep and the Rockin' Moles are the stars of the stage event. Christmas cactus farming is also making a comeback!
My Free Farm: Farmers can enjoy three seasonal events at once: The gift delivery event has fun presents in form of shadowbox items, there are new achievements for carving Christmas decorations, and the Christmas nibble event gives players the opportunity to complete a charming Christmas market scene.
Next Article
While Tome of the Sun does follow the cliched systems you'd often find in MMOs, either PC or mobile based, it tries to add a bit of variety.
by Ojogo
Tad Williams and the Otherland crew have put together a new Making Of video, discussing Five Isle.
by MissyS